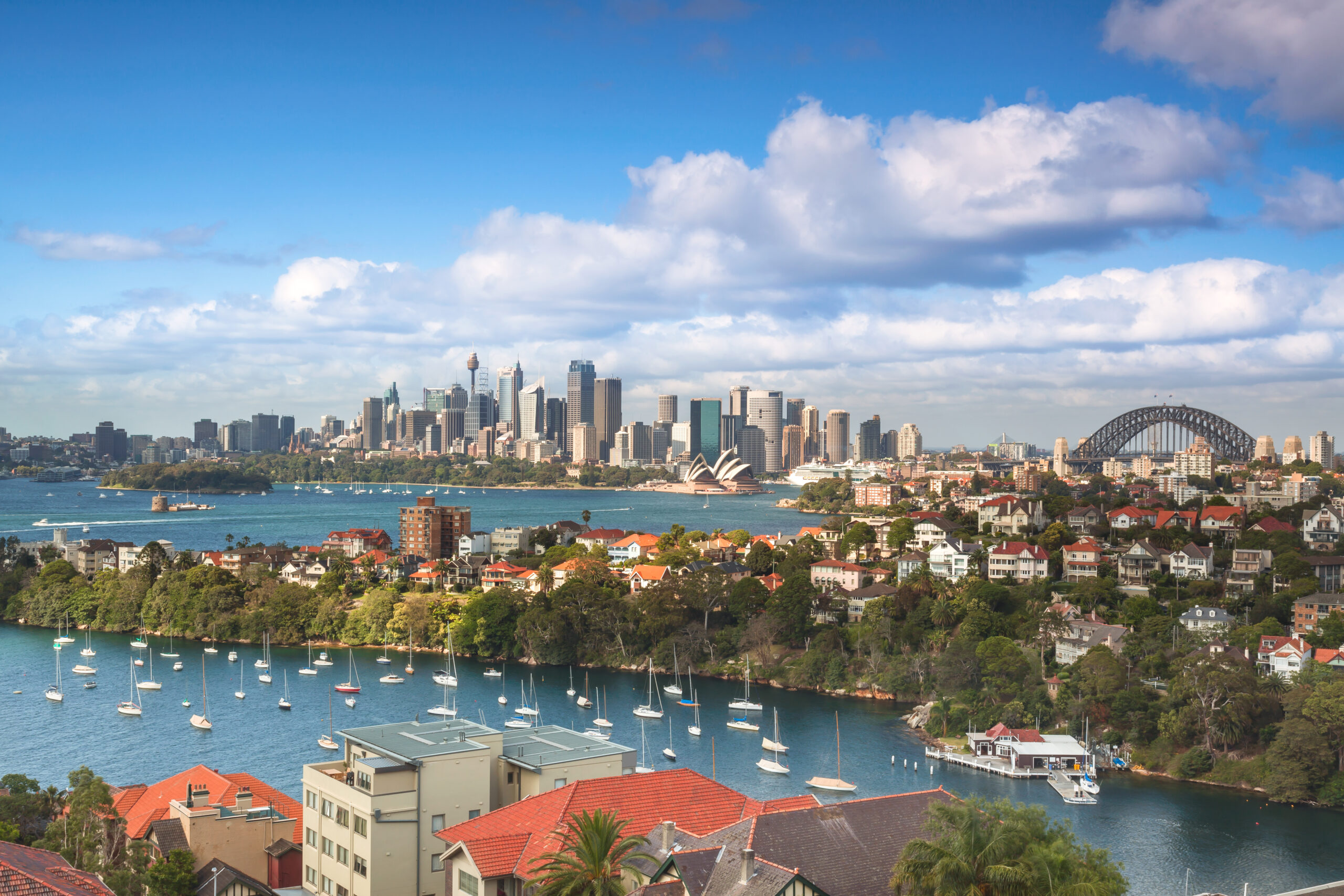 Your Guide to Living and Working in Australia
Australia – a top destination for British expats.
Australia – country rich in wildlife, precious raw materials, pleasant weather and offering an excellent quality of life for the whole family.
Over 1 million Brits live in Australia – the most popular destination in the world for UK expats. It is also home to at least 100,000 Americans – with 1 in 4 of Australian residents born overseas there is a large expat community whatever your nationality.
Owing to its size Australia's climate varies greatly throughout the country. Rainfall is much higher along the east and northern coastlines with east and south western coastlines offering the most habitable environments. Most of the country gets over 3,000 hours of sunlight a year.
Australia's aboriginal population first arrived around 50,000 years ago and continue to have a strong influence on Australian culture. The British began their colonisation in 1788 and this has led to the development of Australia's highly westernised contemporary culture. The original British occupation of Australia as a penal colony was followed by many subsequent waves of migration, including the Australian Gold Rush of the 1850s and significantly the arrival of migrants from over 200 countries after World War II.
The Commonwealth of Australia was founded in 1901 following a series of referenda in favour of independence. The British impact is evident in the predominance of the English language and in the continuance of the constitutional monarchy and parliamentary tradition following the British model. However, Australia has its own culture with an increasing recognition of its proximity to Asia, a focus on outdoor activity and an independent spirit fed by its remote location from Europe and North America.
The prospect of an affluent Australian lifestyle with high levels of home ownership, outdoor life and attractive climate means that Australia remains the leading destination for British migrants as well as from other countries in Europe and Asia. The population of Australia has more than quadrupled since the end of the Second World War.
You can see more about the lifestyle in Australia in the article:
There are many factors that will decide where to live in Australia. For most the work that you will be doing will determine where you will be living. In a vast country there are very different options outside the traditional centres of Sydney and Melbourne. Here we set out the highlights of life in Queensland, New South Wales, Victoria, South Australia, Western Australia and the Northern Territory:
Working in Australia
Australia has consistently been the top destination of choice for British long-term migrants (i.e. people leaving the UK for longer than one year) for more than two decades, with an average of more than 30,000 heading down under every year. World Bank figures say there were over 1.2 million UK-born citizens resident in Australia as of 2011.
Each year Australia issues around 200,000 permanent migrant visas (plus around 600,000 temporary migrants). Many of these are issued as renewals to people already in Australia and the net figure is lower and was estimated as 168,200 in 2014-15 by the Australian Bureau of Statistics if you deduct departures from arrivals and exclude short-term visitors.
Job opportunities in Australia
In The Australian Business Review in 2017 Bernard Salt, a KPMG partner and columnist wrote: 'Since February 2000 most job growth in Australia has been delivered into healthcare and social assistance (up 730,000 jobs), professional services (up 440,000), education (up 330,000) and construction (up 410,000) sectors. These are mostly skilled and/or knowledge worker jobs…….'
'On the other hand jobs that have contracted in the 21st century include manufacturing (down 130,000) and agriculture (down 120,000). '
In order to get a visa to work in Australia you will need to qualify for one of Australia's skilled visas. This will allow you to apply for a visa if your skills can be demonstrated and are on the list of eligible skilled occupations. These are set by the Australian Government and by the individual States and Territories. If your occupation is not on the list for Australia you will need to look at the current requirements of the individual States and Territories.
Transferwise in an article in 2017 stated:
Salaries in Australia are much higher. Some figures have Australians earning over 25% more than their British counterparts. Australia's minimum wage is AU$17.70 per hour compared to AU$14.66 for the United Kingdom and AU$10.08 for the USA.
The Emigration Group point to the average national annual salary of £34,783 in Australia compared to £28,372 in the UK. Looking at different jobs the pattern is consistently in favour of Australia:
Planning your move to Australia.
As you plan your move to Australia there will be many things to arrange. The Expat Network Moving Abroad Checklist is a comprehensive and useful guide that covers the issues you will need to consider and list the actions needed to arrange a successful move.
You will need to decide whether to Sell, Ship or Store Your Goods depending on whether you are moving long term or for the short term. Once you have decided what to take with you it will be necessary to arrange to move your household goods and carefully select an international moving company.
Especially as Australia will be a long haul move for most, you should ensure that you use an experienced international removal company that is a member of one of the international bodies that set and monitor professional standards, such as FIDI. You should also ensure that you get three or more quotes to ensure that you get the best deal. You can generate five no-obligation quotes by following this link. You should then ensure you consider all of the factors as carefully evaluate the quotes. You will also need to understand the New Zealand customs requirements. If you decide to take your vehicle with you there are special issues to consider.
Australia has a rigorous approach to protecting its agriculture and tourism industries from pests and diseases brought from abroad and you should beware what you take with you to Australia.
Moving with family
If you are moving with family it has its joys and challenges and planning needs to start as soon as you begin to consider making the move. Deciding whether to take your pet with you can be a difficult decision. As part of the family, many want to take them with them, but there can be issues that should be considered and it is best to be clear on what is involved.
Australia has excellent state and independent schools to choose from. School education in Australia includes preschool, preparatory (or kindergarten), primary school, secondary school (or high school) and senior secondary school (or college). School education in Australia lasts for 13 years, and is compulsory between the ages of six and sixteen (Year 1 to Year 9 or 10).
When choosing a school in Australia [LINK] you can decide between government schools, private and independent schools (including faith-based schools such as Catholic or Islamic schools) and schools based on educational philosophies such as Montessori and Steiner.
The school system in New Zealand has a very good reputation and when finding a school for your children you will also need to decide whether to go into the public school system or use a private school.
Many people who have family already living there seek to join their family in Australia, but there can be many hurdles to overcome and it can take time for the visa to be granted.
What is involved in renting or buying property in Australia?
Even if you plan to buy a property you should consider your property options in Australia and think about renting a property [LINK] initially so that you can make a well-informed decision about what and where to buy and to be sure that you have built up a knowledge of the property market so that you do not overpay.
The first thing to know about buying property in Australia is that foreigners do not have an automatic right to own property. Unless you are married to an Australian or hold a permanent resident visa or special category visa (as New Zealanders do) you will need to apply to the Foreign Investment Review Board (FIRB). They take around 40 days (to a maximum of 140 days) to approve your application. is generally quick, efficient and safe. It takes four to six weeks from offer to moving in and is relatively inexpensive compared to most European countries.
Many times the job or other reason for your move will determine where you will be living in Australia. You will need to decide Where to live in Australia and the most popular areas to buy around New Zealand as well as which are the most popular areas for expats in each city.
What is the healthcare system in Australia?
Australia's healthcare system is a mix of state and private care. Partnership between the two sectors is actively encouraged. Medicare, Australia's system of universal medical cover, was introduced in 1984. All taxpayers contribute 1.5% (2.5% for higher earners) of income to Medicare. The remaining funding comes from central government.
Most people are covered for 100% of in-patient care and roughly 75% of primary care (GP) charges. Dental and optical care is not covered by Medicare. Foreign residents are eligible for Medicare benefits provided they have permanent resident visas. Reciprocal arrangements exist with the UK and some other countries that means that you qualify for Medicare, but this covers immediate necessary medical treatment in the public health system, but aren't otherwise entitled to benefits and should still consider taking out Overseas Visitors Health Cover. This will cover you for private healthcare or cover the shortfall and may be required initially to meet the requirements of your visa even if you will qualify for Medicare.
Australia provides primary care through General Practitioners (GPs) who will refer patients to specialists when required. Many specialists require a referral from a GP before seeing a patient.
How do you set up your banking in Australia?
It is very useful to have access to a local account on arrival and Australian banks encourage you to open an account before you move to Australia. You can open an account online up to a year before you arrive in Australia.
You can deposit funds in the account once opened but will only be able to withdraw funds or make payments once you arrive in Australia and have presented the required identity documents (passport with a valid visa and a separate form of ID such as driver's licence).
Australia has many banks including large international banks and small local banks. The four largest banks are Australia and New Zealand Banking Group or ANZ, Commonwealth Bank of Australia, National Australia Bank and Westpac.
Your choice of bank is a personal one and as well as the largest banks above there are a number of smaller banks. All banks provide internet and mobile banking options and although free use of your chosen bank's ATM network may be a factor, you can generally access other banks' ATMs on payment of a small fee.
Further details on options for banking in Australia can be found in our article:
How easy is it to settle in to Australia?
Australians can be hard-working and conscientious, but 'work hard play hard' is a common attitude reflecting the availability of wide ranging leisure opportunities. Australians have a reputation for being very open and relaxed with a low tolerance of affectation and snobbishness. They are seen as 'matey' with a have-a-go attitude. This means that they are open to new arrivals with new migrants constantly adding to the population.
Although there is a wide range of expat clubs and groups in most cities, expats and new migrants tend to integrate into the local community rather than live a separate life. Participation in local clubs and sports as well as the school gate provide opportunities to meet people with similar interests. Australians like to entertain, particularly barbecues and outdoor dining. Dining out is also popular and the unique BYO restaurants (bring your own wine and other drinks) can keep the costs down.
The car is a key part of life in Australia if you are getting out of the cities to enjoy the coast, the bush and the many other joys of life in Australia. The rules are different in each state and territory.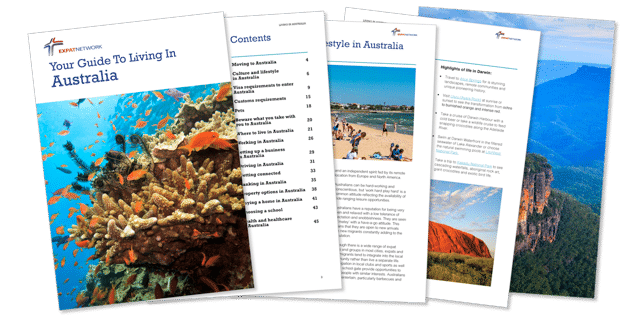 Download your Free Guide to Living in Australia here!
Planning your move to Australia? Make the transition work better with this free-to-download, full-colour guide. Your Guide To Living In Australia provides you with guidance on the issues you will need to address as you plan your move, whether that is to retire, buy a second property or simply enjoy a whole new life.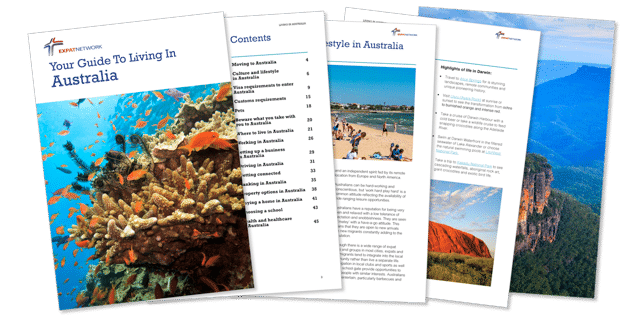 Download your Free Guide to Living in Australia here!
So you are moving to Australia! Make the transition work better with this free-to-download, full-colour guide. Your Guide To Living In Australia provides you with guidance on the issues you will need to address as you plan your move, whether that is to retire, buy a second property or simply enjoy a whole new life.