Living and Working in Africa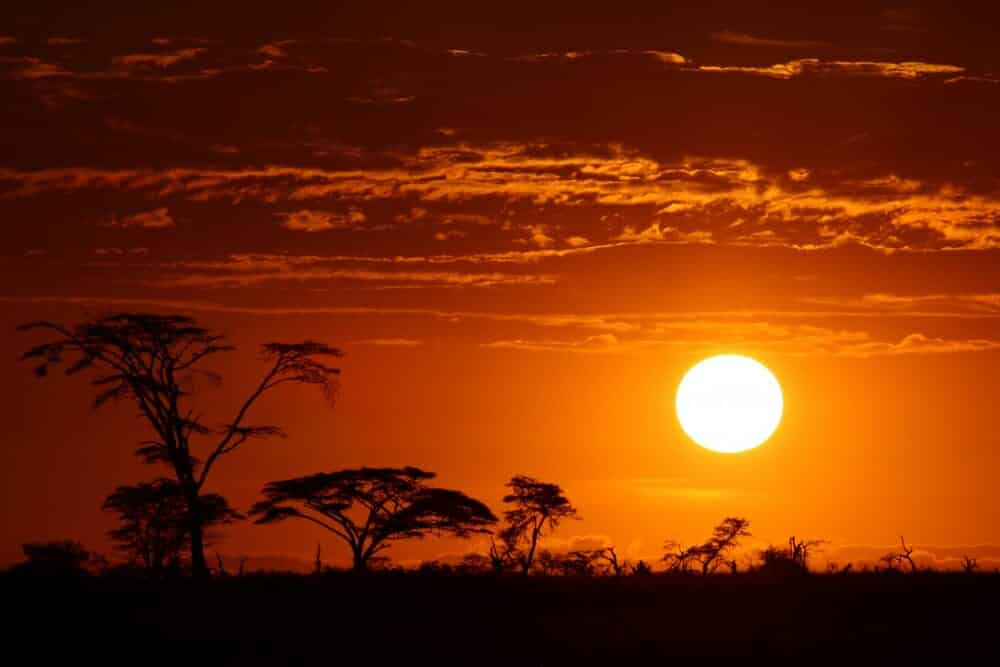 There's something about Africa that keeps luring people back. Perhaps it's the feeling of a vast untamed continent where anything is possible. But although the darling of the expat world can be a world of opportunity, it is also a hive of civil unrest and fraught with danger. So it pays to have an idea of what's going on.
By Tim Skelton
– Greed and Corruption
– Oil and Conflict
– The Chinese Factor
– Opportunities
– Nigeria Risky
– Kenya also Shaky
– The Arab Spring
– South Africa
– Welcome in West Africa
Africa is in the news a lot, and seldom for the right reasons. Whether it's the spread of the Ebola virus, deadly protests in Egypt, or Boko Haram in Nigeria kidnapping schoolchildren and burning entire towns to the ground, it can seem a big and scary place at times. And yet some people are drawn to go back time and again. So it must have plenty going for it.
Greed and Corruption
Economic growth in sub-Saharan Africa in 2014 was slightly above 6%, according to the International Monetary Fund. Africa as a whole has a GDP in excess of US$2 trillion, and is home to seven of the world's fastest growing economies. And yet, major structural changes are still needed if it is ever going to catch up with the rest of the world.
Much of Africa remains shackled by poor infrastructure, greed and corruption. While a great deal of the sub-Saharan region has progressed towards achieving the UN's Millennium Development Goals (MDGs), a report in July 2014 concluded that persistent obstacles and new challenges meant the area would not meet most of the goals – including the most important one of halving poverty – by the 2015 target date.
Oil and Conflict
At the same time, Africa has an abundance of under-exploited resources that the rest of the world wants. Several countries, most notably Nigeria, have oil aplenty, and opportunities for expats to come in and help them extract it. But for long periods many nations have had to sit on their mineral wealth because civil disturbances have stopped large-scale industry moving in. The continent has the world's largest reserves of natural resources, yet is second to only the Middle East in terms of unrest and war.
The website warsintheworld.com listed ongoing conflicts in 27 African countries as of early 2015, featuring 174 militias or separatist groups. The particular hot spots that come in for special mention are the Central African Republic (civil war), DR Congo (war against rebel groups), Egypt (popular uprising), Libya (war against Islamist militants), Mali (war against both Tuareg and Islamist militants), Nigeria (the war against Boko Haram), Somalia (war against Islamist militants), Sudan (war against rebel groups), and South Sudan (civil war).
At the time of writing (2015), however, the Foreign and Commonwealth Office only mentions Libya, South Sudan and Somalia as places to avoid completely. But the list of places where their only slightly lighter advice of 'avoid all but essential travel' is considerably longer. Anyone working or who has worked in Nigeria will be only too aware of the risks involved there.
The Chinese Factor
Meanwhile, as the West looks on the Chinese are muscling in. Hungry for raw materials to fuel their own economic boom, the Chinese are befriending resource-rich but cash-poor governments. By being somewhat less demanding on human rights issues than western governments who prefer to tie aid deals to democratic reform, China is securing access to the increasing quantities of ores and oil it needs.
The figures speak for themselves. Chinese companies and an estimated one million Chinese workers have poured into Africa over the past decade. Between 2001 and 2010, China's Export-Import Bank loaned almost US$63 billion to African countries, which was 25% more than the World Bank provided. Trade between Africa and China has grown tenfold, and China has replaced the United States as the continent's biggest trading partner.
Opportunities
If you want to work in Africa there are plenty of opportunities. The continent hardly lacks unskilled labour, but there is a demand for skilled workers, particularly those with long experience in industry and/or a university degree. And as ever, the oil and gas sector offers rick pickings, particularly in established countries such as Nigeria and Algeria.
Nigeria Risky
Yet with all the recent unrest Nigeria is probably also the place of greatest concern to many members. Stories of attacks on foreigners and abductions from oil rigs in the Niger Delta region, including in and around Port Harcourt, may have become far less common than they once were, but a new threat has emerged in the form of Boko Haram.
While the Islamist group's terrorist activities are mainly confined to the north-east of the country, which the FCO regards as a complete no-go area, they have occurred elsewhere in the country as well, and vigilance is the order of the day.
And in Nigeria, as elsewhere in Africa, insurgents may not always be your greatest concern. Violent street crime including muggings and car-jackings happen in many countries. Street demonstrations can become violent without warning. And while foreigners may not be specifically targeted in the latter cases, it is always a good idea to keep your wits about you and to avoid large crowds.
Kenya also Shaky
Several East African states, and Kenya in particular, seem particularly volatile, and terrorism incidents occur on a regular basis. Kenya also experiences high levels of violence. One place to steer well clear of is the border region with Somalia. But elsewhere, a lot of the violence is between criminal gangs and the police, and also between rival tribal factions. So although deaths are common, foreigners are not generally targeted, and avoiding the affected area is always a good idea.
To put things in perspective, over 100,000 Brits visit each year, and for the most part the consulate only has to report a handful of muggings and car accidents. So it isn't always as bad out there as some would have us believe.
The Arab Spring
The Arab Spring that lead to the overthrow of several governments across North Africa several years ago has had a varying impact on the accessibility of the countries involved. And even in the safest North African nations, such as Morocco, there is always going to be some threat to Westerners from local Islamist groups sympathetic to the IS cause.
Libya made a brief reappearance on the expat jobs radar, with opportunities arising in the oil sector there, but ongoing violence has shut the door firmly in the faces of expats for the foreseeable future. The FCO currently advises against all travel. Moreover, the British Embassy in Tripoli is currently closed, meaning if you go there and get into difficulties, there will be no one around to help you.
In Egypt – provided you stay away from the often-violent anti-government protests – the main threat to British nationals arises when tourist resorts are targeted by terrorist organisations. But such incidents are rare, and when you consider that a million of us go there on holiday each year, the danger can be over-stated.
And Algeria is only slightly riskier. The biggest dangers really stem from mugging, bag snatching and pick-pocketing. But while terrorist incidents here are usually aimed at security forces, the militant assault on BP and Statoil's In Amenas gas plant in 2013, in which 40 oil workers were killed, proves that nothing can be guaranteed.
South Africa
At the far end of the continent South Africa is a great place to work, although it also suffers from a very high crime rate, including regular reports of rape and murder. It sounds very intimidating, but what the statistics won't tell you is that most crimes occur in the townships away from expat locations. The local authorities also give high priority to protecting foreigners, and the actual risk is quite low. On the other hand, passport theft is quite common, so stay alert.
Welcome in West Africa
West African nations like Ghana and Senegal are said by those who've worked there to be extremely welcoming. The problem is that in general you need to already be in West Africa to have a chance at securing a job. Employers receive so many false assurances from expats pledging to be on the next flight out that preference is usually given to people they meet in person. Another drawback is that some West African nations may have quotas for issuing work visas to foreigners, with some smaller companies only being allowed one at a time. On the other hand, reports suggest that anyone with technical skills such as engineering can expect the bureaucratic mist to miraculously lift.
Ghana is also a draw for expats for a very different reason. As the British colony of Gold Coast it had a dubious history as a centre of the slave trade. Many African Americans and West Indians have roots here, and have made the emotional journey to trace the steps of their ancestors. For most it is a traumatic experience, but increasing numbers feel they have 'come home'. Many are buying property, starting a new life and building businesses in the land their relatives were snatched from centuries before.
For now the continent's reputation as the wild frontier of expat work remains intact. There may be trouble in paradise, and many countries may not get the opportunity to develop properly until peace is allowed to reign, but there is some hope out there.
The Writer – Tim Skelton (www.timskelton.eu)
Dutch-based freelance writer Tim Skelton has spent the past 26 years living outside the UK, and has been a regular contributor to the Expat Network since 2004. As well writing on expat issues, he uses his engineering background and experience gained at the Dutch environment agency to comment and write about a variety of energy and environmental matters, and is always happy to write about his personal favourite subjects – travel, food and beer. When not appearing in airline magazines, national newspapers and lifestyle magazines from Playboy to GQ, he has also written three books: Luxembourg – the Bradt Guide (third edition, 2014), Beer in the Netherlands (2014), and Around Amsterdam in 80 Beers (second edition, 2015).