Living and Working in United Arab Emirates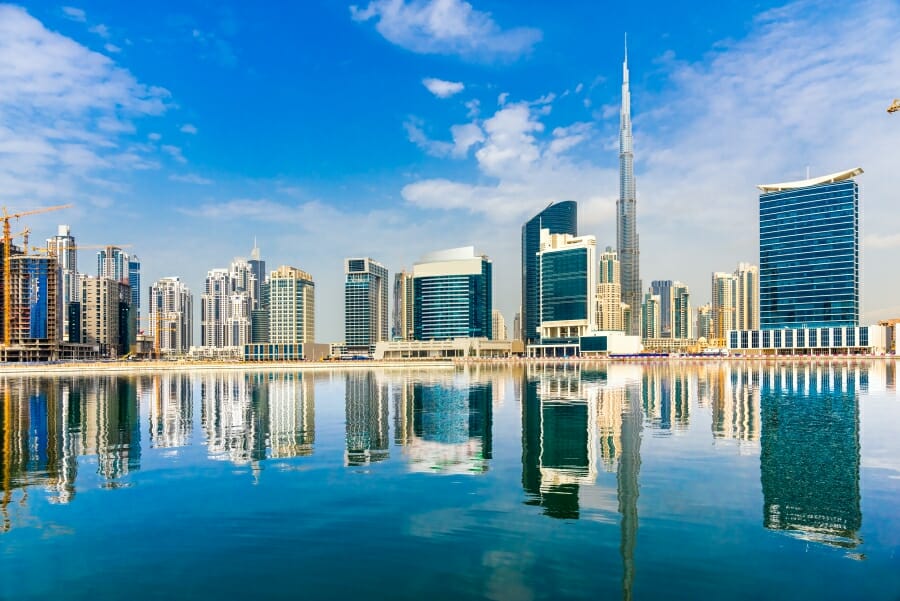 For those of you contemplating new contracts in the Middle East, here is a brief introduction to what you can expect if you are going to work in the United Arab Emirates.
Each of the seven Emirates is governed by its own ruling family, and although now constituted together in a federation, each retains individual identity. Although language, customs and beliefs vary little among the seven Emirates, to be a citizen in Abu Dhabi is a different experience to residing in Sharjah, for example.
Nevertheless, many things can be said about the Emirati collectively.
Native citizens of the Emirates represent only about 20 per cent of the total population. Roughly one quarter are other Arab and Iranian, one half South Asian, and the remainder other expatriates including Westerners and East Asians. In total, about 90 per cent of the total workforce is expatriate -mostly from India, Pakistan and the Philippines.
Arabic is the official language. Farsi (Persian), Hindi and Urdu are spoken by many expatriates. English is widely spoken and understood, especially in business.
Although most large firms in the UAE appear to be structured like those in the West, it is rarely the case. The family that owns the company truly runs the show, making all the important decisions and investments.
The high-ranking executive who appears to be in the driver's seat is rarely as powerful as his Western counterpart. There is usually a high-ranking family member in charge, who makes the decisions, but who in turn is generous in rewarding hard work, self-discipline, honesty –and loyalty.
What Westerners negatively term nepotism is a fact of life and a part of the Islamic tradition of family loyalty. It can be, in fact, a positive influence when everyone gets along well with one another.
The basis of Islamic hospitality dictates a warm welcome for foreigners. The pressure brought to bear by the way in which these states have been thrust into the modern world is troublesome to many, however, and some Western ways are scorned, such as drinking, especially in excess. The basic code of Islam is very conservative and hard to reconcile with Western freedoms.
The history of oases in the desert, which received all visitors with comfort and kindness, has lain a tradition of exceptional and easy hospitality for all travellers.
At the very core of the Muslim influence is the omnipresence of God and the virtual oneness of life and religion. Therefore, all aspects of life – social, cultural, behavioural and creative -are aligned with Allah. And at the heart of this social fabric is the family and its well-being.
Passports
A valid passport and visa are required for almost all visitors to the UAE, with some exceptions for citizens of certain countries.
Business travellers must hold a passport that is valid at least six months from the date of arrival. Tourists' passports must be valid for a period of at least three months from date of arrival.
Admission and transit is refused to nationals of Israel. Holders of any passport indicating entry to or departure from Israel, either individually or included in a list of other countries, either actual, intended, with valid or invalid stamps, may also be refused entry.
Citizens of Gulf Cooperation Council (GCC) countries need no visa to enter the UAE. A valid passport or national ID card should be shown at entry.
Visas
The visa process is complicated and travellers' requirements and fees vary widely, depending on nationality.
There are more than 30 countries whose citizens may obtain a visa at the point of entry, and who are exempt from the requirement that a new visit visa is required to re-enter the country after leaving for less than 30 days. For a current list of visa waiver countries, consult the Ministry of Foreign Affairs website (under Other Nationalities).
It is strongly recommended that you contact the closest Embassy or Consulate of the United Arab Emirates for specific information about visas before planning a trip to the UAE.
For many nationalities, a visa is not required for stays up to 30 days. Depending on your nationality, extensions to your stay may be granted without a visa, or you may be eligible for a tourist visa on arrival.
Visas fall under two main categories: business (single or multiple entry) and tourist, which includes transit visas and Entry Service Permits. Apply for your visa through your sponsor (an employer, hotel, or UAE resident) well before your departure date.
Depending on the type of visa you apply for, requirements may include all or some of the following:
A valid passport endorsed for travel to the UAE
Two visa application forms
Two identical passport size photographs
Passport copy
A letter from your employer explaining the purpose of your work
A letter/fax from your UAE sponsor to your nearest UAE Embassy stating your name, duration of stay and (if required) requesting multiple entry
The applicable fee, payable in cash only.
Business visas
Business visas are applied through a business-related sponsor, such as your employer or a local Emirati company. Single-entry business visas are valid for a maximum stay of 30 days within the two month period following the date of issue.
Multiple-entry visas also entitle the holder to a maximum stay of up to 30 days, but remain valid for six months. If necessary, it may be possible to have a business visa extended, for visits lasting longer than 30 days (to a maximum of 90 days), at local immigration offices.
Tourist visas
In the case of the tourist visa, also known as a visit visa, the requirements are similar, but the sponsor is an Emirati friend, relative, tour operator, or the hotel in which you will be staying. Tourist visas are valid for 30 days with the possibility for an extension of an additional 30 days.
Not all nationalities require a tourist visa before arrival. Check with your nearest Emirati Consulate or Embassy for requirements pertaining to your situation. For some, one can be issued at the airport or other point of entry. Nationals of the GCC member countries do not require a tourist visa to visit the United Arab Emirates and can stay for an unspecified period of time.
Entry service permits 
Entry service permits are applicable for certain categories of commercial traveller (and accompanying family members). Typically used for urgent trips, they are valid for only 14 days and cannot be extended. They are issued at the airport, provided you are met by your local sponsor.
Transit visas
A transit visa is valid for 96 hours or four days. It is issued, with a locally operating airline as the sponsor, to travellers with onward flight tickets. Note that some citizens are not eligible for the transit visa, currently those from Afghanistan, Iraq, Niger, Somalia, and Yemen.
Top Ten Tips For Expats In United Arab Emirates
Despite higher living costs, tax-free salaries and the vast oil wealth are a huge pull on expats with 65,000 British expats and 45,000 Americans living in the Middle Eastern State.
The UAE is a sub-tropical desert climate. It gets extremely hot in the summer with daytime averages above 40°C (113°F).
A valid passport and visa are required for almost all visitors to the UAE. Business travellers must hold a passport that is valid at least six and tourists' passports must be valid for a period of at least three months from date of arrival.
As a major expat hub there are many languages spoken in the UAE; English is widely spoken among business people and in expat areas but the official language is Arabic.
The Muslim calendar follows the lunar cycle, and is 10 or 11 days shorter than the Gregorian calendar. Year One is based on the Hegira, Mohammed's flight from Mecca to Medina, rather than the birth of Christ. Therefore, 2013 on the Western calendar equals the end of 1433 and the beginning of 1434 on the Muslim calendar.
The UAE is a federation of seven autonomous Emirates. Its estimated 2014 population was nearly 9.5 million of which 87 per cent are expats, making UAE nationals a minority.
The Burj Khalifa in Dubai is the tallest man-made structure in the world, at 829.8m, however it will soon be over taken by the Kingdom Tower in Saudi Arabia which is due to measure 1,000m.
The UAE's currency is the Dirham (Dh) which is made from 100fils.
The UAE is extremely rich in oil and the majority of its economy is based around exporting oil and gas.
The UAE has experienced a greater level of civil unrest since the Arab Spring, however this is usually contained within the residential districts of natives.