Living and Working in Qatar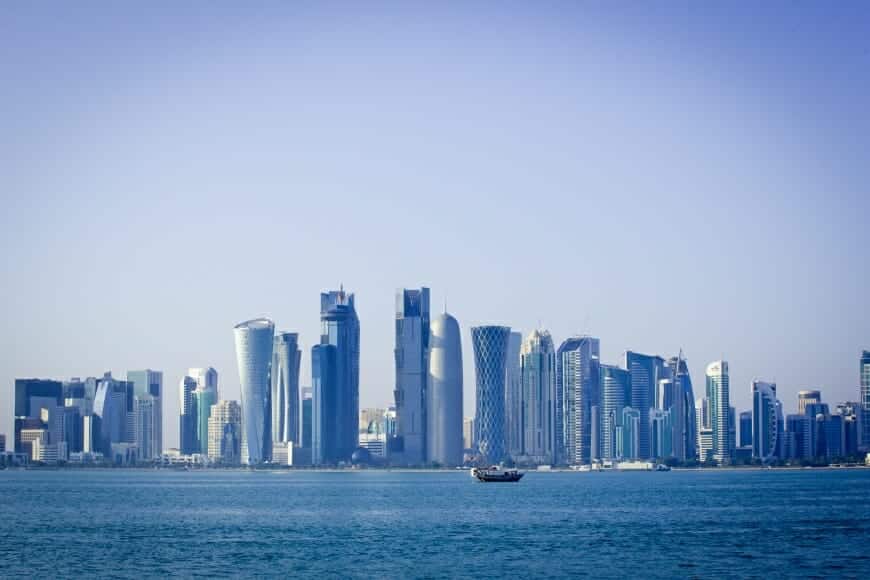 For those of you contemplating contracts in the Middle East here is a brief introduction to what you can expect if you are going to work in Qatar
Like many other Gulf countries, Qatar is a combination of an ancient past and 21st century technology and architecture. It is a country in transition that has retained its traditionalism, while in the process of modernising.
The overriding influence on life in Qatar, past and present, is Islam. The Qataris remain faithful to their roots; Islam and tribal and family ties are very strong. The tenets of Islam are integral to all aspects of daily life, both social and business.
Until the discovery of oil in the middle of the 20th century, Qatar had few inhabitants and relied on trading, pearling, and fishing. Many of the prominent Qatari families, including the ruling al-Thani family, are former pearl merchants.
The economy of Qatar is subject to centralised state control. The government owns or directly controls the country's mineral wealth, major manufacturing enterprises, banks, and insurance companies. After years of relying almost entirely on oil, Qatar's continued prosperity now depends on modernisation and diversification, as well as on the efficient, cost-effective and timely export of natural gas. The government continues to work towards these goals.
Politically, Qatar became fully independent from Britain in 1971. Today it is a constitutional monarchy, with the emir as the head of state. This position is passed on within the al-Thani ruling family. The highest executive body in Qatar is the Council of Ministers, which comprises both elected and appointed officials. The Council of Ministers initiates legislation, which is then referred to the Consultative Assembly, or Majilis Al Shura, for further discussion. The Emir then ratifies legislation submitted to him by the Majilis Al Shura. Laws are announced by the emir, as are elections to the legislative assemblies.
Sharia Islamic Holy Law, the Sharia, is the fibre of life in Qatar as it is throughout the Arabian peninsula, where it was born and continues to flourish. The call to prayer can be heard from the mosques five times a day, starting at daybreak. In accordance with the tenants of Islam, some public institutions, such as schools, are segregated by sex or offer special days when only women can attend. There are also family sections in restaurants for women only. Social functions, such as weddings and teas, are often segregated with men and women in different rooms. Qatari women can vote in public elections, and may drive cars.
Expatriates will find some aspects of the society exotic and colourful. In public, women wear veils to cover their hair and part of their faces, as well as heavy black robes called abayas to cover their bodies. Many of the older, more traditional women wear a face mask called the batula. They also wear large head scarves called hijabs. Qatari men wear long white thobes, floor-length robes. They wear sandals and a three-part head covering called a ghutra.
Foreign visitors and residents may find some of the Islamic influences restrictive, particularly for women in a publicly male-dominated society. However, they will also find that Qatari people have the traditional Arab values of hospitality, family honour, and generosity.
Most of the population of Qatar lives in and around Doha, the capital. Nearly all Qataris are followers of Islam and speak predominately Arabic dialects; most know at least some English. Foreign workers with temporary residence status, however, make up nearly 50 per cent of the population. They are predominately from India, Pakistan, Bangladesh, Sri Lanka, Egypt, Palestine, Jordan, and Iran. The population is growing at about 5 per cent annually.
In the not-so-distant past, Qatar was a small desert country where commerce consisted of trading, pearling, and fishing. Although commercial pearling in Qatar was supplanted by the Japanese cultured pearl industry in the early 1900s, the traditions lived on, and many of today's prominent Qatari families are descendants of pearlers.
Indigenous Qataris, who are of Arab and Bedouin or Persian origin, make up only about half the population. Descendants of migrating tribes, mainly from Najd, al-Hasa, and Oman, they began arriving in Qatar in the 1700s.
The government of Qatar encourages foreign investment, particularly in joint ventures with Qatari partners. Qataris welcome foreigners with business expertise and knowledge. The number of international firms in Qatar continues to increase. Westerners in particular are treated with respect and politeness.
There is, however, a definite and pronounced bias among Qataris in favour of Qatari firms and ventures with Qatari participation. This bias also prevails within the workplace, where the owner or most senior person in a company will be a Qatari. Managerial positions will be held by Qataris and other Arabs, including many Palestinians, plus expatriate British and other Westerners. Qatar hopes to increase the number of its own citizens in management positions, and is emphasising education, training, and employment in the private sector.
Much of Qatar's population is made up of foreign workers from India, Pakistan, and the Philippines who have immigrated for employment. The recruitment of foreign labour is controlled by the Ministry of Interior, and the Labour Department.
Obtaining Qatari citizenship is very difficult. Qatar does not enforce wage standards for immigrant labour, and labour unions are not permitted. Wages are negotiable, but it is customary to provide accommodation, end of service benefits, and airline tickets home every one or two years in addition to salary. However, employers can also cancel residency permits, and forbid workers from changing employers or leaving the country.
Passports that are valid for six months or more, at the time of entry, are necessary for almost all travellers to Qatar. Passports should have at least one blank page. Nationals of Israel are prohibited entry to Qatar, as are holders of passports with evidence of travel to Israel. Requirements are complex and subject to change; check with the nearest Qatari embassy or consulate for current regulations regarding passports and visas. Keep your passport with you.
Qatari law prohibits employers from holding the passports of their employees.
Nationals of 33 countries may apply for a visa upon arrival, or through their nearest Qatari embassy. Go to http://www.qatarembassy.net/visa.asp to view the list. Visa on arrivals are valid for one month and cannot be extended. Tourist and business visas are valid for 30 days. Nationals of other countries, as well as extended stay and multiple entry applicants, must apply for a visa through the Ministry of Interior in Doha.
Several types of business visa are available. A 72-hour business visa can be issued on arrival, and extended for an additional 72 hours. Other business visa types must be arranged prior to departure. One-month business visas can be extended for a total of three months. Longer business visas are also available. Visa applicants will need to provide two colour passport-sized photographs, a completed application, proof of two photocopies of the identification portion of the passport, and all fees. Business visa applicants will need to provide a letter from the sponsoring company. Additional requirements, such as a health check or police certificate, can apply.
A business visa holder acts as sponsor for visas issued to spouse and children. All family members, including new-born children, receive individual visas upon approval. Business visa holders often require an exit visa, procured by their employers, to leave Qatar. Do not attempt to enter Qatar without a required visa or to stay beyond your visa's expiration date; there are heavy fines and penalties for violation of visa regulations. Your visa is extremely important; be careful with it and make copies for reference purposes. For important, detailed information on entry requirements in Qatar, the appropriate embassies, consulates, and online visa information databases are essential resources.
Most expatriates live in one of the various compounds that afford them the security, freedom, and amenities they prefer. If your company does not arrange accommodations for you, sources to start your new home search include real estate agents – who maintain lists of available properties – and local paper and online advertisements. The Gulf Times posts properties to let daily on their online version of classifieds.
Villas and townhouses located in compounds are often considered to be preferable. If you have a particular compound in mind, be aware that there is likely to be a waiting list. Many compounds also have management offices that advertise their available properties and tenant lease agreements. Some compounds have web sites that offer contact information, as well as a glimpse of everyday life, home layouts, and amenities available.
This article is an extract from a much more detailed guide to Living and Working in Qatar. You can access the full guide in the Destinations section of Expat Network: https://www.expatnetwork.com/destination-guides/