The City Highlights Of Australia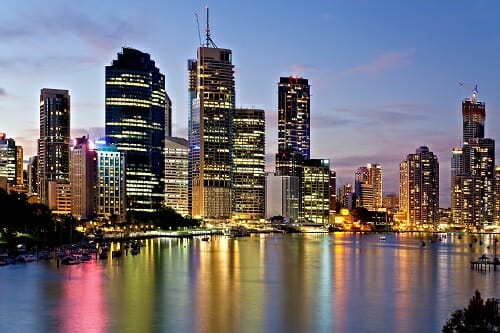 Australia has many highlights and deciding where to go depends on your interests and preferences.  Here is a summary of the top cities.
SYDNEY, New South Wales
Climate
Sydney enjoys a sunny climate with mild winters (9 – 17°C) and warm summers (19 – 26°C).  Water temperatures rise to around 23°C in the summer and is a great time to enjoy Sydney's abundant beaches.  Sydney's rainfall is generally highest in June, with an average of 132 mm.
Employment
Sydney generates almost a quarter of Australia's GDP and is home to the Australian Securities Exchange and the Reserve Bank.  Many of Australia's largest companies and foreign banks have their headquarters there.  After finance, manufacturing is the next biggest industry in the city. Retail is the largest employer in Sydney.
Lifestyle
Sydney's spectacular harbour gives a dramatic backdrop and the city provides a wide range of opportunities to enjoy the beaches of Bondi and Manly Bay, shopping, nightlife and culture.
The iconic Sydney Opera House is at the centre of the city and of cultural life in Sydney with 1,600 performances a year, but there are many other opportunities to view theatre, dance and other cultural events.  The city also has an excellent reputation for dining with options ranging from casual and affordable cafes and pubs to top rated restaurants.
Shopping in Sydney is a real pleasure with the Rocks for souvenirs and art by the Harbour Bridge or the Westfield in the city centre, major department stores, the Strand Arcade and the spectacular Queen Victoria Building elegantly restored in the 1980s.
There is no shortage of options for day trips, including driving along the Grand Pacific Drive from the Royal National Park winding through the rain forest to the coast.  The Blue Mountains and Hunter Valley are great to visit time and again.
MELBOURNE, Victoria
Climate
Melbourne has warm generally dry summers, with temperatures occasionally going over 30°C.  Autumn sees cooler weather with morning fog usually clearing followed by fine, sunny days.  In winter, average temperatures range from 6 – 14°C and snow falls in the north-east of Victoria, known as High Country. The weather is frequently cold and cloudy, and nights can be accompanied by frosts. Heavy rain is rare at this time of year.  October is the wettest month with roughly 10 days of rainfall.
Employment
Melbourne, as Australia's second largest city and is also a major Australian business centre. Two of Australia's 'Big Four' banks (ANZ and National Australia Bank) and many pension funds are based there. Ford, Holden and Toyota are based here as well as Australia's largest company, BHP Billiton and many technology companies, particularly biotech.  It is also Australia's largest port.
Lifestyle
The climate, waterfront location and nightlife make Melbourne one of the most vibrant cities in Australia.  Enjoy the public artworks in the Docklands, stroll along the south bank of the Yarra River to explore the arts precinct or make your way to Southbank and South Wharf for waterside dining, drinking and shopping.  The Laneways bustle with boutiques, hole-in-the-wall cafes, restaurants and bars.
Collins Street with its designer stores and heritage buildings is often referred as the 'top end of town' and is the home of the major international brands.  You can find Melbourne's designers and a more hip culture in Little Collins and Howey Place.
If you are travelling further afield you can set off along the Great Ocean Road for a scenic coastal drive or discover the wineries in the Yarra Valley, Mornington Peninsula and Geelong wine regions.  You can ski in the High Country in winter or enjoy an adrenaline rush from activities in the summer.
BRISBANE, Queensland
Climate
Brisbane has a subtropical climate with warm or hot weather for most of the year. Summer temperatures range from 21 – 30°C accompanied by its highest rainfall of the year with some thunderstorms and occasional floods. Average rainfall during this time is 427 mm.  In the autumn average temperatures and humidity drop to 15 – 25°C and there is less rain.  Winter is generally dry and mild with mean temperatures between 11 – 21°C. Early mornings and nights can be crisp, but overnight lows rarely drop below 9°C.
Employment
Brisbane with a population of 1.1 million has one of the busiest ports in Australia and has benefited from the recent 'resources boom.' The Queensland Government has recently invested heavily in biotechnology research.
Lifestyle
Brisbane with its subtropical climate lends itself to an outdoor lifestyle.  The river, Roma Street and South Bank Parklands and City Botanic Gardens bring nature into the heart of the city.  Just ten minutes out of the city you can enjoy the bush trails of Mount Coot-tha.  You can travel a little further to enjoy the lush rainforests and spectacular mountain ranges of the Scenic Rim or spend a day or two in the Moreton Bay region.  On Moreton Island, one of the largest sand islands in the world, you can enjoy the beaches and sand dunes, go quad-biking or dive into the crystal clear waters and scuba dive or snorkel happily for hours.
Shopping is available at more 1,000 stores at The City, Queensland major shopping precinct or in Fortitude Valley with its local designers or Paddington for vintage and designer fashion, homewares and books.
Al fresco dining with local produce from Lockyer Valley or Moreton Bay prawns is a real delight.  Pubs, bars and live music venues allow you to continue the evening's entertainment.  You can see emerging bands as well as national or international acts in West End and Fortitude Valley.  Alternatively comedy, musicals, live theatre and dance can be seen at the Brisbane Powerhouse and QPAC.
ADELAIDE, South Australia
Climate
Adelaide enjoys mild winters (average 16°C) and a warm, dry summer (average 29°C).  Adelaide has low humidity and temperatures can occasionally soar to 40°C in the summer.  June is the wettest month, averaging around 80mm, but it is the driest  of the Australian capitals.
Employment
Adelaide is Australia's manufacturing centre, although the healthcare industry is the state's largest employer. It has a sizeable automotive industry and is a A$1 billion per year manufacturing base for defence technology. South Australia is also the country's largest producer of wine.
Lifestyle
Adelaide with its laid-back attitude and warm climate is family-friendly but also has a vibrant bar scene and many festivals to suit most tastes.  Within 20 minutes you can go from the bustling city centre to beautiful beaches.
The laneway quarter around Peel Street, Gilbert Place and Leigh Street has an active small bar scene.  There are many top restaurants run by international names as well as locals.  Norwood, less than three kilometres from the city centre offers al fresco dining.
Family friendly beaches to the north and surfer beaches to the south.  There are hundreds to choose from and the climate allows you to enjoy them virtually all year.
The Adelaide festivals cover arts, film, music, cabaret and there is a diverse range of comedy shows and theatre to satisfy your desire for cultural events.
Wine is a major part of life in and around Adelaide.  The National Wine Centre of Australia is in Adelaide and Barossa, Koonawara, Eden Valley and McLaren Vale are just some of the 18 world-renowned wine regions nearby.
PERTH, Western Australia
Climate
Perth enjoys hot, dry summers (18 – 30°C) and mild winters (8 – 19°C).  In the afternoons in summer a sea breeze called the 'Fremantle Doctor' can provide some relief from the heat, but there is virtually no rain.  Winter, however, can bring heavy downpours and thunderstorms.
Employment
Perth has Australia's fastest growing economy thanks to the demand for iron ore, coal, oil, gas, and other mineral resources. The resources boom has led to low unemployment rates and more jobs in retail, construction and service industries.
Lifestyle
Perth is proud of being Australia's sunniest capital city with glorious sunsets over the Indian Ocean.  In King's Park and Botanic Gardens it boasts one of the largest inner city parks in the world just a 15 minute walk from the city centre.  Perth has 19 white-sand beaches, including Cottesloe Beach, Cable Beach and Lucky Bay.  The Swan River Foreshore is a great place for a walk or cycle ride.
Shopping is available in King Street where you can find high-end fashion boutiques or at The Murray and Hay Street malls.  More eclectic options are available in Northbridge, Mount Lawley, Leederville, Subiaco or Victoria Park.
Fremantle, thirty minutes from Perth, offers a blend of the old and the new with well-preserved colonial streets, Freemantle Prison and museums alongside bustling markets, lively bars and street cafes.
Rottnest Island provides a great day out close to the city with stunning beaches, bays and coral reefs.
Travelling a little further you can see Margaret River with its vineyards, forests and ancient caves or up to the fringing reefs in Exmouth and the Coral Coast or see the sub-tropical wilderness in Broome and the North West.