Taking Your Pet To Australia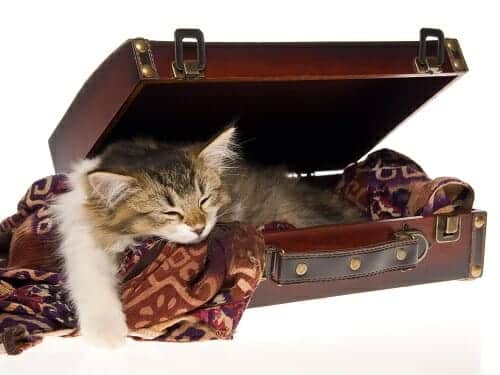 If you decide to take your pet with you to Australia you will need to comply with the detailed regulations and procedures and some pets cannot be taken to Australia.
Cats and dogs can be imported to Australia under strict conditions designed to manage biosecurity risks. For the import conditions applicable to your cat or dog, the Australian Government Department of Agriculture and Water Resources provide step-by-step guides according to which group the exporting country is categorised as belonging to.
Group 3 countries include the UK and USA as well as other European countries.  These are approved countries in which rabies is absent or well-controlled and animals from these countries require an import permit to be eligible for import to Australia.
Different conditions apply for the importation of assistance dogs.
If you wish to import animals other than cats or dogs, see the guidance at Live animals and reproductive material.
Cats and dogs imported from Group 3 countries
Cats and dogs coming to Australia from group 3 countries must be accompanied by a valid import permit, which provides the conditions for importing the cat.
Failure to comply with all the conditions on the import permit may result in the cat or dog being (at your cost):
held longer in post entry quarantine
subject to additional testing
exported
euthanased.
A government approved veterinarian or official government veterinarian must perform all veterinary procedures and testing required in an approved laboratory prior to export.
Cats and dogs must be identified by an approved microchip and a government approved veterinarian must scan the microchip at each veterinary visit and check that the scanned microchip number is correctly recorded on all documentation.
Your cat or dog must be vaccinated with an inactivated or recombinant rabies vaccine that is valid at the time of export.  Rabies vaccines with a three (3) year validity are acceptable.
The cat or dog cannot be exported to Australia until at least one hundred and eighty (180) days after a Rabies Neutralising Antibody Titre (RNAT) Test has been carried out.  The test is valid for a maximum of two years.
After you have received the rabies vaccination and signed RNAT test declaration and at least 42 days before the proposed import date you can apply for an import permit through the Biosecurity Import Conditions System (BICON).   Import permits are valid for up to twelve (12) months from the date of issue.
Pets must not be under quarantine restrictions or be more than 30 days pregnant nor be suckling young at the time of export.
Your cat or dog must be examined within 5 days before export and found to be free from external and internal parasites and show no clinical signs of infectious or contagious disease. You should bring all documents to this examination.
A valid import permit, with a veterinary health certificate completed by an official government veterinarian in the country of export must accompany the cat or dog on arrival in Australia, which must be completed, signed and stamped by an official government veterinarian.
The cat or dog must travel as manifested cargo (not in the cabin), in an IATA approved crate for cats. You can see the IATA guidelines at Traveller's Pet Corner.
It is important to use an experienced carrier and a list of animal transport companies worldwide is available at International Pet and Animal Transportation Association (IPATA) .
Department staff will collect your cat or dog on arrival for transport directly to the post entry quarantine facility where they will spend a minimum of 10 days (or longer if any biosecurity risk issues arise).