Driving In Australia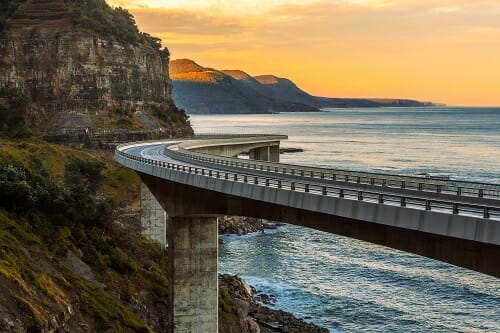 The car is a key part of life in Australia if you are getting out of the cities to enjoy the coast, the bush and the many other joys of life in Australia.  The rules are different in each state and territory.
Driving Licence
The regulations for driving in Australia are set by the individual states. Driving licences must be carried at all times when driving and be available to show to police or other officials on demand.
The minimum age to drive a car is 17 or 18 years old depending on the state.  In some states learner permits can be issued for supervised driving from the age of 15 years and six months.
Some states require foreign visitors to carry an International Licence with your current home country licence. Other states request you carry your current home country driver's licence (with a formal translation of your licence if it is not in English).
In all Australian states except the Northern Territory you can drive on a current overseas driving licence. This allows you to drive the categories of vehicle which your overseas licence authorises you to drive, subject to any conditions on your overseas licence.
An International Driver's Permit (IDP), is not itself a licence but certifies in nine languages (Arabic, Chinese, English, French, German, Italian, Russian, Spanish, and Swedish) that you have a valid licence. An IDP must be supported by a valid driver's licence from your home country. You must obtain the IDP in your home country, prior to departure, from your local Automobile Association or equivalent organization. The IDP can prevent delays as it tells a police officer that you have a valid national licence and that your credentials should be honoured.
However, in most states you will have to apply for a local state licence after three months.  The licences from many countries are recognised by most states which exempts you from having to sit a written and/or a practical test.
Where testing is required, there is a different written test for each class of licence. The written test may be taken in English, or in a limited number of foreign languages (including Arabic, Chinese, Croatian, Greek, Korean, Serbian, Spanish, Turkish, and Vietnamese).  There is a fee for both the written and practical driving tests. The written test may be taken at any time, but an appointment will be necessary for the practical test.
Once you have an Australian state licence you can use it in any Australian state.  You will need to check the individual requirements in the state or territory where you will be driving to find out what the laws are for driving with an overseas licence:
Driving Conditions  
Australians drive on the left-hand side of the road and use the metric system of distances and speeds. Automatic transmission is popular, but manuals are widely available.
Since Australia is a large country the road network varies greatly in type, surface and the services available en route.  There are often very long distances between towns which have fuel, water and/or food and so you need to ensure that you plan ahead.  Carry supplies, know where you can obtain fuel and when they are open and ensure that the vehicle is in good condition and has been recently serviced.
Driving under the influence of alcohol is a criminal offence. The blood alcohol limit is 0.05% throughout Australia, with zero limits for learners and drivers with provisional licences ("P" plates) in some states. Random alcohol and drug tests are conducted by the police. First offenders may be fined and be suspended from driving for a period depending on how high your reading is. Refusing a random breath test is also an offence and draw similar penalties as for driving under the influence of alcohol.
In case of an accident involving injury or death to any person you must contact the police and appropriate emergency authorities. It is a legal requirement for the driver involved in an accident in which a person is injured or killed to stop and provide assistance. There are severe penalties for leaving the scene of an accident.
Speed limits are 50km/h in urban areas with street lights where there is no other signposted limit. Areas around schools generally have a 40km/h limit during school hours (generally 8am to 9.30am and 2.30pm to 4pm).  This does vary from state to state.
The speed limit outside the urban areas also varies between states and ranges from 100km/h up to 130km/h on major highways.
Speed cameras (including some hidden) are used in Australia and average speed checks or aerial speed checks are also used.  Many police vehicles have speed radars.
There are many wild animals in Australia which can be a hazard when driving outside urban areas.  It is best to avoid driving at night when they can be more active.  It can also be difficult to find petrol stations open at night.