Expat's Guide To The Best Cities In Florida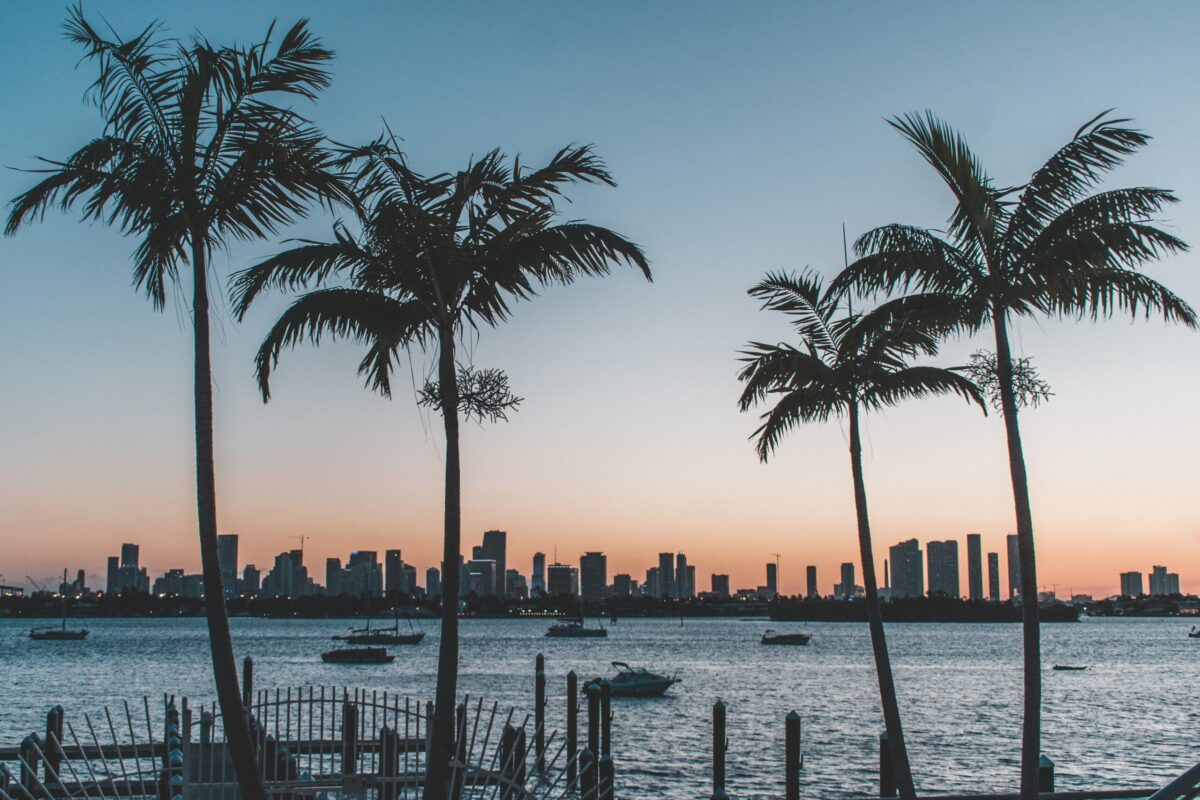 Florida is one of the most popular US destinations among expats. The reasons for this are numerous. Beautiful beaches, warm weather, and diverse communities are why many expats choose to settle in the Sunshine State. Still, with so many cities to choose from, it might be hard to decide on where to start your new life chapter.
To make the decision easier for you, we've compiled this guide to the best cities in Florida for expats to live in. Whatever your preferences are, we're sure you'll find someplace you love on this list.
1 Miami
Florida's second-most populated city is probably also the most popular one in Florida amongst expats. Miami really has it all: vibrant culture, beautiful beaches, and bustling nightlife. This makes Miami a welcoming place for expats, as it can offer a truly unique and busy urban lifestyle.
Amongst many other things, Miami is famous for its large Latin American population. Because of this, Spanish is widely spoken, with almost everyone knowing at least the basics. If you're a fluent Spanish speaker, definitely consider giving Miami a chance.
2 Fort Lauderdale
Located just north of Miami, Fort Lauderdale is probably one of the most convenient cities in the state as it's close to both the airport and major highways. With its many waterfront communities, Fort Lauderdale offers a unique urban and beach living combination. This makes it perfect for almost every category of expats, from young professionals to the elderly. Whichever group you belong to, you should let the pros assist if you decide to move to Fort Lauderdale, as this will make the transition much more manageable.
If you're moving to Florida without a job waiting for you, Fort Lauderdale is an excellent place to start. There are plenty of job opportunities, with the most popular industries being hospitality and healthcare. However, people who work in Miami also often live in Fort Lauderdale. The costs of living are significantly lower, making it even more attractive.
3 Tampa
If you're a young professional looking for a lively, vibrant city, Tampa is the place for you. It's impossible to be bored in Tampa as this West Florida gem is packed with bars, restaurants, museums, and galleries. There are also many seasonal activities, such as festivals, where you can meet other young people and also have a ton of fun. All of this makes it one of the best cities in Florida for expats.
Tampa's job market is one of the fastest-growing ones in the state. Companies are continuously opening many new positions, making it one of Florida's best cities if you're looking for job opportunities. Healthcare, tech, and finance are the most prominent industries, but options are available for pretty much any profession.
4 Orlando
Orlando is famous worldwide for its theme parks, from Universal Studios to Walt Disney World. This is one of the many reasons moving experts at 247logisticservices.com always recommend it to expat families with children. You'll never run out of things to do in Orlando, which is important if you're new to the area.
Orlando is full of fun and vibrant communities. People are generally friendly and open, which is excellent because, as an expat, you'll need to socialize quite a lot. Fortunately, it shouldn't be an issue there, and you'll be able to make new friends in no time.
5 Jacksonville
Located in northeastern Florida, Jacksonville is Sunshine State's biggest city. It's a trendy location amongst expats looking for a city with a thriving economy that still gives off a friendly atmosphere. Even though there are many flourishing industries in Jacksonville, living costs are relatively low. This makes it perfect for expats looking to save money without sacrificing their quality of life.
While Jacksonville is a busy city, it also offers plenty of options for outdoor activities. It is home to a large number of parks and beaches where you can do everything from kayaking to hiking. If you're an outdoorsy person looking to continue that lifestyle in Florida, Jacksonville is definitely the place for you.
6 Sarasota
Not everyone who moves abroad is looking for a fast and busy lifestyle. In fact, many expats aim to settle down a bit. Moving to Sarasota, Florida, could be a great option if you're one of them. This beachside city can offer a calm, serene lifestyle without the isolation of a rural area. Sarasota residents deeply appreciate the value of the community, so you'll hardly ever feel lonely if you decide to move there.
While Sarasota may give you the impression of your regular old suburban area, there are actually many things to do there. With their warm water and soft sand, the beaches in Sarasota are among the most beautiful ones in the state. Fishing and boating are very popular, as well as hiking and cycling.
7 Gainesville
Gainesville is a lovely city located in the heart of Florida. It's famous for being home to the University of Florida, which makes it perfect for expats looking for a thriving college town with a laid-back lifestyle. The community is diverse and welcoming, making it easy for foreigners to fit in.
Even though it's not too large, Gainesville offers all the benefits of living in a big city. It has fantastic public transportation, great healthcare institutions, and of course, high-quality education. All of these make it an excellent choice for anyone who wants to enjoy a vibrant college town while also having a high quality of life.
8 Cape Coral
Cape Coral is an excellent Florida destination for expats looking for an active, coastal lifestyle. Also known as the Venice of Florida, Cape Coral is famous for its 400 miles of canals. This makes it perfect for anyone who enjoys boating, kayaking, or fishing.
The housing market in Cape Coral is on the more affordable side, which makes it very accessible to expats. It's also incredibly safe, with virtually no bad neighborhoods. Whether you're moving with family or on your own, you shouldn't have any concerns regarding your safety.
Conclusion
Florida is one of the most expat-friendly states in the US. It offers a wide array of cities, making it a fantastic relocation destination. That's why it's often hard to choose the best cities in Florida for expats to live in. Still, there's something for everyone, and if you research beforehand, you're guaranteed to find a place that fits your lifestyle perfectly.