UK set for man-made lagoon plants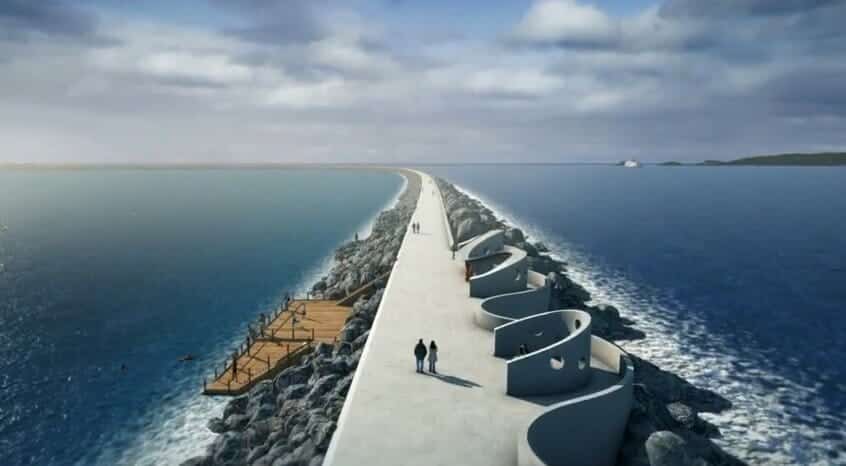 UK is set to have the first ever man-made lagoon power plants. Four of the six structures are to be based in Wales, and one each in Cumbria and Somerset.
Planning work for a £1bn Swansea lagoon has already begun and has been backed by Ed Davey, the UK energy secretary. The walled-in lagoon would extend five miles out from the coast and would be two miles wide (pictured below).
The six lagoons would cost a total of £8bn and would eventually be able to generate 8% of all UK electricity. Projects would be funded by electricity bill payers.
The lagoons will be based in areas with the greatest difference between high and low tide. As the tide comes in, water is built up outside the gates of the lagoon and rushes through the turbines to create electricity. As the tide goes out, the gates are opened to generate power as the water returns to the sea.
Tidal Lagoon Power, the company planning the developments, also wants to build a 90-turbine lagoon in the Severn Estuary between England and Wales. The company says it would have a capacity of between 1,800 and 2,800MW, enough to power every home in Wales, but there is opposition to the plan.
Mark Shorrock, Tidal Lagoon Power's chief executive, said: "We have the best tidal resource in Europe and the second best worldwide. We now have a sustainable way to make the most of this natural advantage.
"There is still a long way to go and many environmental surveys to undertake but we will work in partnership with all nature conservation bodies so as to understand, avoid, minimise and mitigate any environmental impacts."
The deadline for planning permission for the projects is 2017. If approved, they should be working by 2022.
Most large turbine components and generators are to be made in Britain and assembled in Wales.
Britain's first surf lagoon is set to open in Wales later this year.
Source:  Global Construction Review
Link: http://tinyurl.com/khcluzw