Turkey to build $3.5bn tunnel project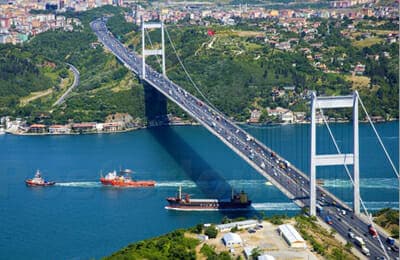 Turkey is set to build a 3 storey tunnel under Bosphorus Strait in Istanbul at an estimated cost of $3.5 billion the report said.
The 6.5-km-tunnel would provide a road and rail connection between the city's two sides, cutting travel times to 14 minutes, reported The Construction Index.
Unveiling the project, Turkey's prime minister Ahmet Davutoglu said the tunnel was the first-of-its-kind in the world.
It would take road and rail 110m under the Bosphorus Strait, with the road carriageways positioned above and below the railway, Davutoglu was quoted as saying in the report.
He said the Bosphorus Bridge, Fatih Sultan Mehmet Bridge and the Yavuz Sultan Selim Bridge – currently under construction – will be connected to each other once the tunnel project gets completed.
According to him, the tunnel will both reduce the traffic load on the bridges and maximise time savings.
It will also connect Istanbul's three airports as well as the city's main axes of nine rail systems with the land routes.
Davutoglu said the aim is to complete the overall project and put the tunnel into service within five years.
Source:  Trade Arabia
More info:  http://tinyurl.com/pnokold