T&T wins HK airport expansion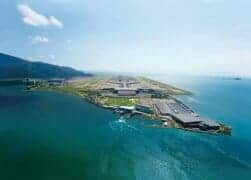 Turner & Townsend are to provide a range of services for the development of the new three-runway systems at Hong Kong International Airport.
Its role covers master planning, procurement strategy and risk management services.
HKIA has more than doubled the volumes of passengers, cargo and aircraft movements since its opening in 1998 and is fast reaching its maximum runway capacity. The 3RS will include the formation of 650ha of land north of the existing airport island, the construction of a new third runway and related airfield infrastructure, and expansion of the existing Terminal 2. The construction programme is approximately eight years.
Nick Townsend, Turner & Townsend managing director of north east Asia, said:  "Having worked closely with the Airport Authority since 2011, we were able to adopt an integrated approach to this scheme by packaging together risk management, programming and procurement strategies, and mobilising our team of experts quickly. "
Tommy Leung, general manager, projects, Airport Authority Hong Kong, said: "Turner & Townsend has built an impressive track record in the aviation sector, having supported many of the world's largest and most complex airport programmes. The consultancy's highly professional approach made them a key and strategic consultant for the planning of this project."
Source: The Construction Index
More info: http://tinyurl.com/mhvgk84