The 10 Best Small Cities To Live In The USA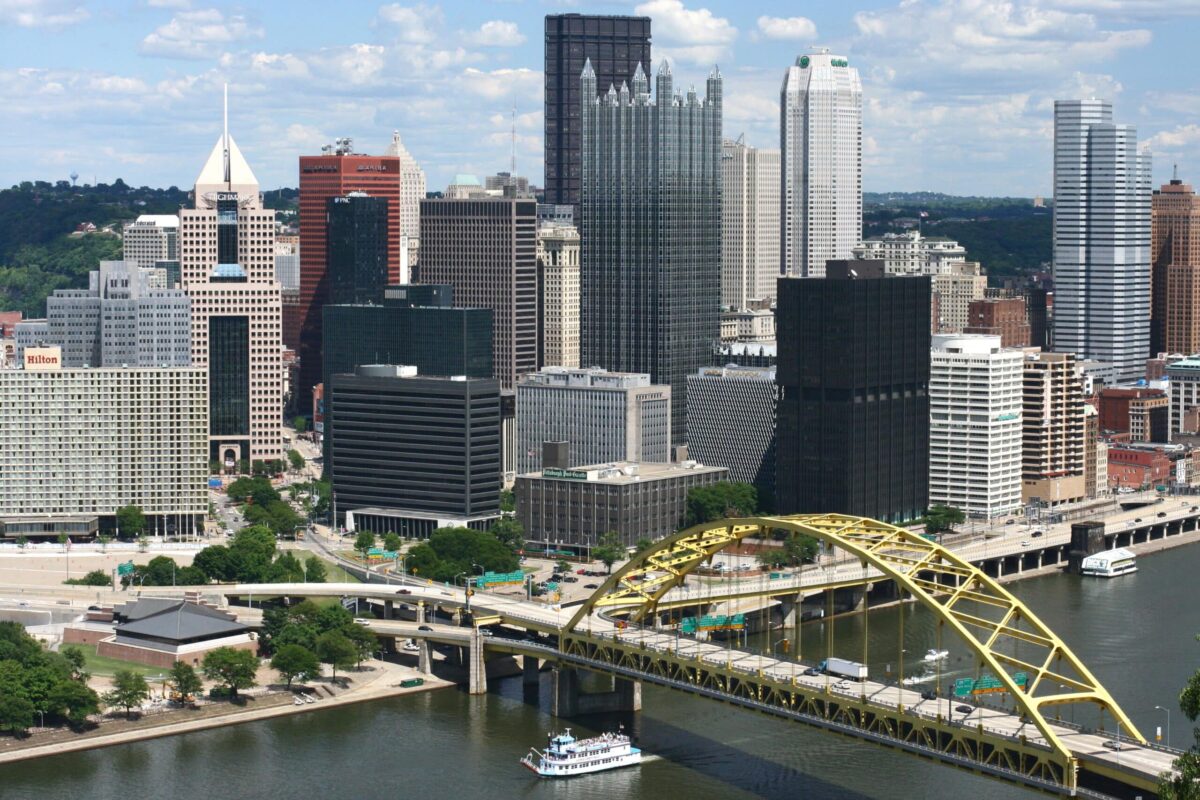 Where should you choose to live in the USA as an expats.  Here International Citizens Group look at the option of small city charm, culture and opportunity and rate the best small cities to live in the USA as an expat for 2023.
Written by International Citizens Insurance
For much of its history, the United States of America has drawn people from around the world looking for opportunity. The mix and influence of international cultures, languages and traditions helped create the country we know today. When it comes to economic prospects, the U.S. is still a highly sought-after destination. According to U.S. News and World Report, the U.S. job market is the fourth best in the world. But it is expensive. Numbeo ranks the U.S. as the 16th most expensive country in the world for 2023. The difference in cost of living between a large metropolitan area and a smaller city can be significant. If you want affordability without sacrificing access to culture and amenities, a small city may be for you. From sea to shining sea, and everywhere in between, we've identified and ranked the best small cities to live in the USA as an expat for 2023.
What Makes the USA Unique?
The U.S. is massive. It is the fourth largest country by land mass with the third largest population in the world. Its size means that regional climates and terrain, as well as accents, are diverse. With so many different options, get to know each region to see what fits you and your lifestyle the best.
If you are moving to the U.S., you should know that most Americans have employer-sponsored health insurance. There is no universal healthcare system in the U.S. and the cost of health insurance and medical care are among the highest in the world. While job prospects are plentiful, the healthcare system is expensive and not well-ranked in comparison to other high-income countries. The quality of care can also vary by state. The U.S. states with the best healthcare systems are Hawaii, Massachusetts, Connecticut, Washington, and Vermont.
Many immigrants and expats build happy lives in the United States, but it is worth noting that political tensions and divisions are high. In particular, immigration policy and LGBTQ rights are consistently in the national spotlight during and in between U.S. election cycles. While still in the minority, nationalist and xenophobic views are growing in certain parts of the country. Data from the U.S. Federal Bureau of Investigation (FBI) shows that hate crimes, while rare, are also on the rise.
Despite this, foreign nationals can find a strong sense of support and community in this expansive country. According to the Organisation for Economic Co-operation and Development (OECD), 94% of people in the U.S. feel they "know someone they could rely on in time of need." Residents are also content with their quality of life, reporting an average rating of 7 out of 10.
How We Identified The Best Small Cities for Expats in the United States
The definition of a small city can vary, but we focused on incorporated places with a population of at least 50,000 and no more than 350,000. Cities in this range tend to have downtown commercial areas and distinct neighborhoods with public and private amenities. While major metropolises have millions of people, more than a third of Americans are living in small cities, according to the U.S. Census Bureau.
To narrow down this large sample size, we first used U.S. Census Bureau data to identify small cities with the highest foreign-born population. We also identified small cities with a high increase in the foreign-born population over recent years. While U.S. Census data does not remove asylum seekers and refugees from the foreign-born population metric, our other criteria help balance out the impact. To be more thorough, we also included small cities identified through nonpartisan institute report data as places where immigrants and foreigners are thriving in the United States.
Ranking the Small Cities
Next, we dove into each small city in our list and evaluated the cost of living, job opportunities, healthcare systems, and safety. To understand the quality of life for an expat in these cities, we also looked at hours of sun per year, historical and cultural attractions, and LGBTQ-friendly policies and laws. We also included the education systems, internet speeds, green spaces and walk scores. Based on our research, we gave each city a ranking within each category. The category rankings were then added together for an overall score which we used to identify the 10 best small cities to live in the United States.
We got each city's cost of living from Numbeo and from the nonprofit think tank Economic Policy Institute. Local crime data from Neighborhood Scout was used to rank safety. Healthcare system data came from U.S. News and World Report: 2022 Healthiest Communities and employment data came from the U.S. Bureau of Labor Statistics. We rated the cities' LGBTQ-friendliness using data from the Human Rights Campaign, and school quality data came from Scholaroo.
The 10 Best Small Cities to Live in the United States
The following cities are the best small cities to live in the U.S. as a foreigner based on our research.
10. Fremont, California
9. Jersey City, New Jersey
8. Buffalo, New York
7. Hialeah, Florida
6. Methuen, Massachusetts
5. Harrisburg, Pennsylvania
4. Sammamish, Washington
3. Pittsburgh, Pennsylvania
2. Apple Valley, Minnesota
1. Ames, Iowa
Dive into each city below to learn why each one made the cut.
10. Fremont, California
Population: 223,871
It's the most expensive city on our list, but Fremont, California might be worth the cost for outdoorsy, tech-minded expats. Just southeast of cool and foggy San Francisco, Fremont has only slightly less sunshine per year than southern Florida! It is also a diverse community, offering residents plenty of green spaces, cultural and historic sites, and access to a variety of international schools in the San Francisco metro area. It's a healthy community, too. Alameda County, where Fremont is located, had one of the healthiest populations in the U.S. in 2022, according to U.S. News and World Report.
As an extension of Silicon Valley, Fremont is home to many well-paying tech companies which have become the top employers in the area. As you might imagine, internet speeds in this region are the fastest in the country. For more arts, culture and historic sites, you can easily go to San Francisco on a whim from the Bay Area Rapid Transport (BART) station in Fremont. When it's time to get out into nature, two UNESCO World Heritage Sites are within a few hours' drive: the stunning Yosemite National Park and Redwood National and State Parks.
9. Jersey City, New Jersey
Population: 286,670
Jersey City, New Jersey sits in the shadow of the iconic Statue of Liberty, a UNESCO World Heritage Site. It offers access to the bright lights and culture of New York City — just across the Hudson River — for much less than a Manhattan lifestyle. Reflecting the spirit of Ellis Island (the historic former immigration port just off shore), Jersey City is the second most ethnically diverse city in America. It ranks high on safety and walkability and boasts a growing restaurant scene that reflects its international community.
If you are moving to Jersey City with children, you'll have easy access to the many international schools in the New York metro area. Regardless of citizenship status, children also have access to New Jersey's top-ranked public school system. Yes, other cities have parks — but Jersey City residents have a waterfront state park with breathtaking views of the Manhattan skyline and the closest view of "Lady Liberty" without boarding a boat. Residents can also rely on a variety of public transit options and enjoy some of the fastest internet speeds in the country when working from home. If you're looking for a thriving, diverse community near big-city action, put Jersey City on your list.
8. Buffalo, New York
Population: 276,486
If you aren't afraid of a little (or a lot) of snow, Buffalo, New York is a nature lover's small city. Known for its proximity to the famous Niagara Falls and the Canada-United States border, Buffalo is having a renaissance. In fact, it was included in Architectural Digest's 23 Places to Travel in 2023. A highly walkable city, Buffalo's arts and culture scene is thriving and includes art galleries and live entertainment. Its historic sites include Kleinhans Music Hall — the acoustically perfect home of the Buffalo Philharmonic Orchestra — and an early building designed by renowned architect Frank Lloyd Wright.
Over the last ten years, Buffalo has expanded museums, adapted existing buildings and more. What didn't change is its excellent city park system and access to hiking, fishing and other outdoor recreation. For now, the cost of living in Buffalo is the second lowest on our list — making it a hidden gem for expatriates. While Buffalo is home to immigrants from around the globe, Canadians are the largest sub-group. The unemployment rate is higher than the national average, but this would be an ideal place for remote or seasonal workers. With over 9 million people flocking to see Niagara Falls from the U.S. side each year, Buffalo's tourism industry is booming. A growing tech industry is close behind.
7. Hialeah, Florida
Population: 220,292
The sunniest small city on our list is Hialeah, Florida, just northwest of vibrant Miami. Hialeah is not a beach town, but it conveniently sits at the intersection of multiple major roadways. This means easy access to the beach, downtown Miami, Miami International Airport and Everglades National Park (a UNESCO World Heritage Site). Or, skip the car and use the Miami Metrorail system or Hialeah's own bus lines. Hialeah is also a highly walkable city and one of the safest on our list.
When staying in town, residents enjoy the green spaces, sports fields, bike lanes, playgrounds and lakes in the 515-acre Amelia Earhart Park. (The small airport where Earhart took off on her final fateful journey in 1937 is just north of the park.) While you're there, visit the Miami Watersports Complex for waterskiing lessons and rentals. If you're feeling lucky, the massive Hialeah Park Casino is a focal point for entertainment, dining and more. The elegant 1920s casino, including a horse track and gardens, is also a National Audubon Sanctuary for flamingos! This proud majority Hispanic and Latino community has the second-lowest unemployment rate on our list. Large employers include the Spanish news network Telemundo, as well as the city government. For fun in the sun for much less than Miami, Hialeah may be for you.
6. Methuen, Massachusetts
Population: 50,518
Methuen, Massachusetts is the second smallest city on our list. What it lacks in major attractions, it makes up for in safety, employment opportunities, and small-town New England community. At the border of Massachusetts and New Hampshire, Methuen is a historic former cotton mill town a little more than 30 minutes north of Boston. Many residents commute to the city for work. The last stop on the Massachusetts Bay Transportation Authority (MBTA) Commuter Rail is in the neighboring town, offering a great way to experience Boston without fighting the city's notorious traffic.
While Methuen is not the most diverse town in Massachusetts, it has seen a notable increase in diversity since 2016. The surrounding towns of Lowell, Haverhill and Salem, New Hampshire have revitalized and Methuen is also in the midst of a major development plan. With the Interstate 93 corridor running through the city, Methuen makes a great base to explore the beauty of more rural, northern New England — especially in autumn. It is also within 30 minutes of New Hampshire's Manchester-Boston Regional Airport (serving domestic flights) and 30 minutes to picturesque Salisbury Beach on the coast. Methuen's cost of living is higher than most other towns on our list, but this peaceful city with a riverside rail trail park is a wonderful mix of quaint and convenient.
5. Harrisburg, Pennsylvania
Population: 50,183
Philadelphia gets all the attention, but the capital of the Commonwealth of Pennsylvania is Harrisburg, the smallest city in our rankings. Brick sidewalks, historic architecture and a striking capitol building complex give Harrisburg its early America feel. This small city stands out in a number of ways with a low cost of living, low unemployment and a wealth of regional history and culture. The state and federal governments are the largest employer, but a large agricultural and transportation industry also keep Harrisburg vital.
The city also has the second-highest walk score on our list. Lining the east bank of the Susquehanna River, Harrisburg offers picturesque views from the riverside greenway. In the river itself is City Island, a dedicated park that also includes the baseball stadium for the Harrisburg Senators. In the east, Reservoir Park provides more opportunities for recreation and outdoor events. The park is also the site of the National Civil War Museum. The Susquehanna Art Museum offers exhibits, classes and community events and the Forum Theatre provides a striking performance venue and home for the Harrisburg Symphony Orchestra. Harrisburg is also within a half-hour drive of Hershey Park — a theme park dedicated to the famous American chocolate brand. For such a small city, Harrisburg truly has something for everyone.
4. Sammamish, Washington
Population: 65,845
East of Seattle is Sammamish, Washington, a family-friendly lakeside community with parks and access to big nature. While it is a car-dependent city, it is also one of the healthiest and safest communities on our list. In fact, MoneyGeek ranked it as the 13th safest community in the United States. The cost of living is high in this lovely Pacific Northwest location, but job opportunities in the tech sector and beyond are available. For expatriate families looking for international schools, the French Immersion School of Washington is conveniently nearby in neighboring Bellevue.
Sammamish is also becoming a more diverse community with a 6% increase in the foreign-born population since 2016. Indian residents are the largest sub-group and Sammamish is home to an active Hindu temple and cultural center. As a suburb of Seattle, Sammamish offers access to the arts, culture and food scene of the big city. Or, in just a 2.5-hour drive, you can enjoy the majestic natural beauty of Olympic National Park (a UNESCO World Heritage Site). While sunshine isn't as common as other cities on our list, Sammamish offers a high quality of life in a stunning location.
3. Pittsburgh, Pennsylvania
Population: 302,898
Once known for its steel manufacturing, Pittsburgh, Pennsylvania is the largest city on our list. Its steel days are long gone, but a modern city was born in their wake. Home to multiple major universities, Pittsburgh is now known for its advancements in education, healthcare, and technology. It has also attracted the headquarters of large banks and other Fortune 500 companies. The University of Pittsburgh Medical Center and a surge of innovative tech companies are also top employers. This economic prosperity goes well with Pittsburgh's low cost of living — the lowest on our list.
Pittsburgh's diverse food, art and culture scenes are established and reputable museums are plentiful, including the Carnegie Melon Natural History Museum, Frank Lloyd Wright's Fallingwater, and the Andy Warhol Museum. According to the Human Rights Campaign, Pittsburgh is a friendly place for the LGBTQ community. The city celebrated its 50th Pride weekend in 2023. A report from The G.W. Bush Institute included Pittsburgh on its list of U.S. cities where immigrants are thriving in 2022. Pittsburgh's green spaces are sanctuaries in this rapidly growing city. In fact, Pittsburgh came in at #17 in the U.S. on the Trust for Public Land's 2023 ParkScore Index®. All of these attributes have helped put Pittsburgh on "Most Livable Cities" lists year after year.
2. Apple Valley, Minnesota
Population: 55,416
For expats who want an affordable cost of living not too far from the action, there is Apple Valley, Minnesota. Just south of the Twin Cities of Minneapolis and St. Paul, Apple Valley has the second lowest unemployment rate on our list and quick access to major metropolitan amenities, arts and culture. Residents can get to either downtown Minneapolis or St. Paul in 25 minutes by car. Minneapolis also received the highest score for LGBTQ-inclusive policies and laws from the Human Rights Campaign.
For a midwestern suburb, Apple Valley has an impressive walk score and ranked at the top of our list for overall community health. It is home to the Minnesota Zoo, which is buffered by the expansive Lebanon Hills Regional Park with hiking trails, campgrounds and lakes. The city's residential neighborhoods are thick with trees and dotted with playgrounds and small parks with sports fields. While Minnesota winters are harsh, locals know how to have fun. The Apple Valley Mid-Winter Fest each January includes ice skating and events for the entire community. The city also hosts the largest Independence Day event in the area. Apple Valley also ranked surprisingly high on one other very important metric: sunshine.
1. Ames, Iowa
Population: 66,950
Just 40 minutes north of Des Moines is the small city of Ames, Iowa. Home to Iowa State University, this safe and affordable community has the lowest unemployment rate on our list. The city has been thriving for some time and was #80 in Livability's "Top 100 Best Places to Live" for 2022. Its diversity is growing and it is relatively inclusive, receiving a high score from the Human Rights Campaign for local LGBTQ policies and laws. The university is the largest employer in the city, but jobs are also plentiful in the healthcare, agriculture and manufacturing industries.
As a college town, Ames has reliable high-speed internet and a vibrant cultural scene including art, music, cafes, restaurants and bookstores. Speaking of books, the University is famous for its elite Iowa Writers' Workshop, bringing aspiring authors to Ames who add to the city's creative spirit. Highly walkable, Ames has multiple large green spaces as well as miles of bike lanes, a public garden owned by Iowa State and an Audubon Trail. Ames also has a few unique surprises, like the world's tallest concrete gnome and Ames Miracle Playground Field — an entirely accessible playground created for children of all abilities. Enjoy exploring this vibrant midwest city that we've named the #1 best small city to live in the USA as an expat for 2023.