SSH wins Bahrain mixed-use contract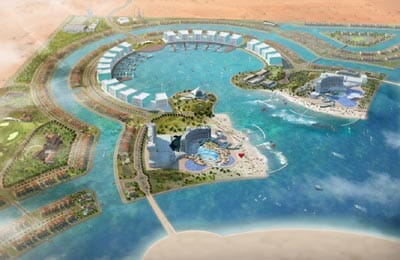 SSH Bahrain, one of the leading infrastructure and project management firm in the Middle East, announces it has won a major mixed-use contract from PK Development Company for the development of a key resort in Bahrain.
"Aligned with Bahrain's 2030 economic vision, the Ras Al Barr Project aims to create a unique sustainable mixed-use waterfront development offering a range of waterfront housing options, themed hotels, retail and souqs, public waterfront and sandy beaches, as well as community facilities, schools, parklands, and sport facilities," remarked Dr Hisham, the acting CEO of PK Development Company.
The development will be supported by a high standard of infrastructure services designed to adoptable standards, he added.
As per the contract, SSH will provide master planning, architecture and engineering consultancy services in the new 1.5 million sqm reclamation development located in the south of Bahrain's mainland.
SSH said the company's design director Ray Phillips and architecture director Simon Dennison will be leading the design team located in its Bahrain office.
On the project win, SSH Bahrain general manager, Andrew Barwick, said: "We are delighted and proud to be working on one of Bahrain's most anticipated developments located on the prestigious Ras Al Barr peninsular."
"SSH remains fully committed to delivering design quality and successful projects for our esteemed clients and for Bahrain, he added.
Hisham Almoayed, PK Development Company W.L.L. Acting CEO pointed out that the project would be greatly advantageous to those seeking affordable waterfront residence while enjoying the "Durrat Al Bahrain" waterfront lifestyle.
"We believe the Ras Al Barr Project to be a unique property offering and we are very excited to be working with one of the leading masterplanners in the region SSH, supported by AECOM as one of the leading consultants worldwide in infrastructure, marine, and environmental consultancy services," he added.
About SSH
SSH is one of the leading master planning, infrastructure, building design, construction supervision and project management firms in the Middle East, with a reputation for design integrity and a portfolio that includes landmark projects in the region. The firm maintains offices in Kuwait, Oman, Qatar, United Arab Emirates, Iraq, Bahrain, Algeria, South Africa and London. Founded in 1961, we have completed more than 1,000 projects and are ranked 3rd in the Middle East by World Architecture Magazine and amongst the top 100 Architects in the World.
SSH's multifaceted practice includes: architecture, urban design and planning, structural and civil engineering, MEP/ building services, interior design, highway engineering, storm water drainage, utility design, sanitary engineering, marine engineering and district cooling in addition to project management and construction supervision services.  We have deep experience in a vast range of building types, from residential and commercial, retail and leisure, healthcare, education, high-rise, convention and cultural centres, to theatres and opera houses.
Source:  Trade Arabia and SSH
More info: www.sshic.com