RT wins $4bn Uganda refinery contract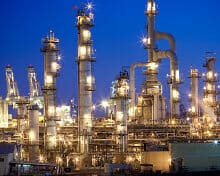 A consortium led by Russia's RT Global Resources has been awarded a $4bn contract from the government of Uganda to build and operate a crude oil refinery in Uganda.
RT Global Resources, which is owned by Russian defence conglomerate Rostec, leads a consortium including Russian oil producer Tatneft, VTB Capital, South Korea's GS and Telconet Capital.
The refinery, which is the first in the country, intends to process Uganda's hydrocarbon reserves which stand at 6.5 billion barrels, along its border with the Democratic Republic of Congo.
The facility will have a processing capacity of 60,000 barrels per day, down from the government's original plan of 120,000 barrels per day. It is expected to start with an initial output of 30,000 barrels per day in 2018.
The refinery's private developer will hold a 60% stake, while the remaining stake will be held by the government.
The government will start negotiations with the RT consortium in March on the terms of a joint venture to engineer and fund the refinery as well as a product pipeline and associated infrastructure.
Source: World Construction Network
More info: http://tinyurl.com/nvyca36