Revealed: The World's Best Countries To Retire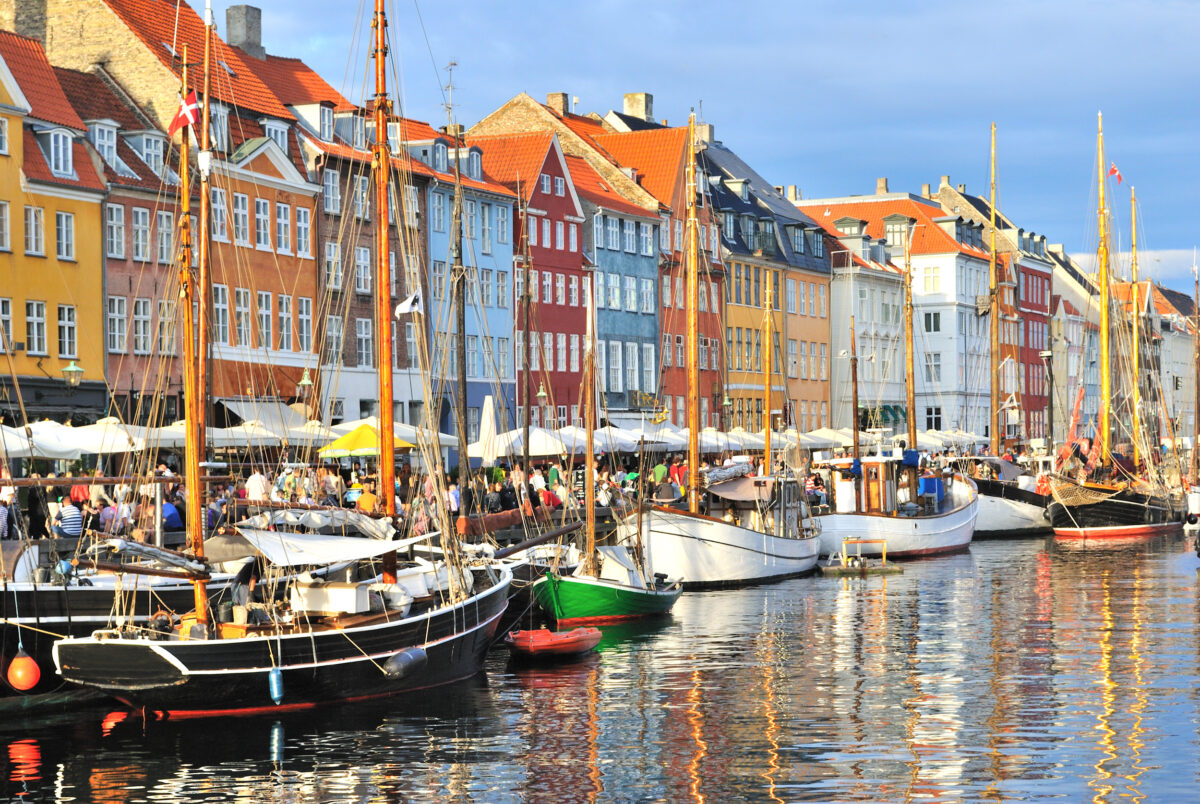 Globally, the population is ageing, with more people than ever before reaching retirement age and asking themselves: where should I retire?  To help answer this, Wise has pulled together a ranking of the best countries to retire in, taking into account the cost of living, population over 65, healthcare, quality of life, climate and happiness. 
Surprisingly, despite the current cost of living crisis, the countries that ranked highest on this list were more expensive to live in, while still reporting high levels of happiness among their population.

Here are the top 5 countries from the ranking:
#5 Spain
Spain is a beautiful country to improve your quality of life, especially to retire. The country offers a wonderful climate, high mental and physical well being among citizens, and a way of life that values good food and leisure. The cost of living in Spain is lower than in most other European countries. One thing retirees should note is that they'll have to buy private health insurance for their first five years in Spain.
#4 Japan
Japan is known for many things, from its cuisine to beautiful landscapes and bullet trains. It's also known for its population's long life expectancy, with Okinawa being a part of the "Blue Zones" — geographic areas where people have low rates of chronic disease and live longer than anywhere else. Offering a great quality of life, safety, clean environment, and excellent healthcare services makes it not only a great place to live but also a great place to retire.
#3 Finland
Coming in at number 3 is Finland, with a fast-growing economy and healthcare system for its residents. According to the Global Peace Index, it is also one of the safest countries to live and travel in. To top it off, Finnish people are the happiest on earth.
#2 The Netherlands
The Netherlands are known for their excellent standard of healthcare, rated as one of the best in the world. Though it isn't free, the country scored highly across all factors that were measured, giving it the 2nd spot on the leaderboard.
#1 Denmark
Denmark was the clear winner, with multiple positive factors like excellent healthcare, quality of life and an extremely high happiness score contributing to a great retirement. Denmark also reported a higher happiness score, which seemingly was not impacted by the country's high cost of living. They also ranked as having the second-highest quality of life ranking. The country has a high level of healthcare system, a good environment, and average living costs across Europe.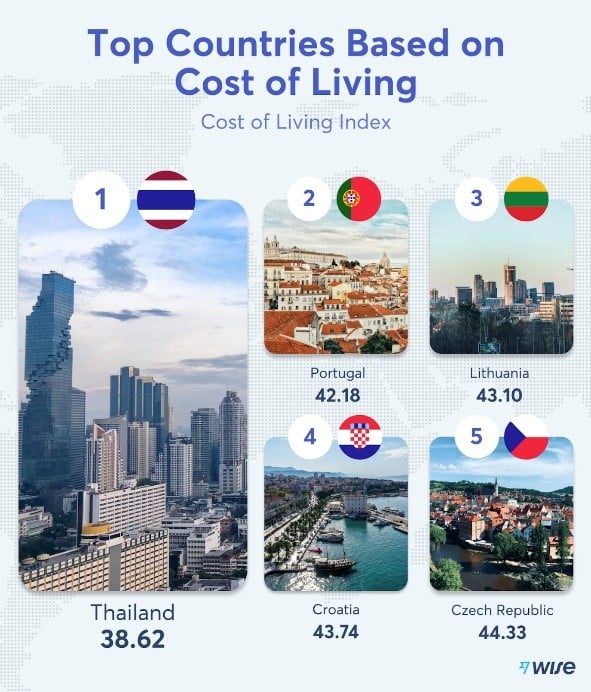 A closer look at the factors contributing to a better retirement
Low cost of living doesn't mean people are happier

Cost of living has been a heated topic for the past couple of months, with drastic price rises worldwide, which is likely on the minds of many future retirees as they consider life without a regular salary.
From Wise's research, it's emerged that low cost of living doesn't necessarily result in a happier population, so retirees may have to evaluate if they want to make certain trade-offs in order to access certain welfare benefits such as free healthcare.
A higher cost of living paired with a happier population is shown by pricier Switzerland, Norway and Iceland, who all score highly among their residents.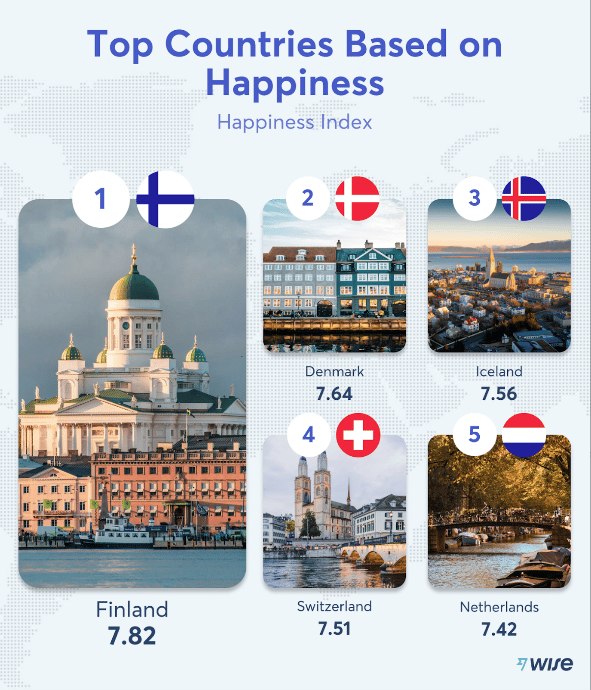 Good healthcare and high quality of life make countries happier
Even more so during these uncertain times, pensioners around the world are looking at happiness as an indicator of well-being, and are factoring this in when deciding on the best place to retire abroad. Nations with stronger social relationships, high life expectancy, strong sense of community and overall high quality of life, all go to show that a healthy country massively increases the happiness of its citizens.
Quality of life reflects happiness rankings
Quality of life is arguably one of the more important factors when choosing a place to retire. It covers multiple aspects of people's lives, such as material comforts, relationships, learning, socialising and leisure.
Switzerland is the top ranking country for the best quality of life. They stand out with its low unemployment rate, low corporate tax rates, a highly developed service sector with proficiency in financial industries, and a robust high-tech manufacturing industry driving the economy. Despite being a more expensive place to live, the purchasing power of Swiss citizens is higher than in all other countries.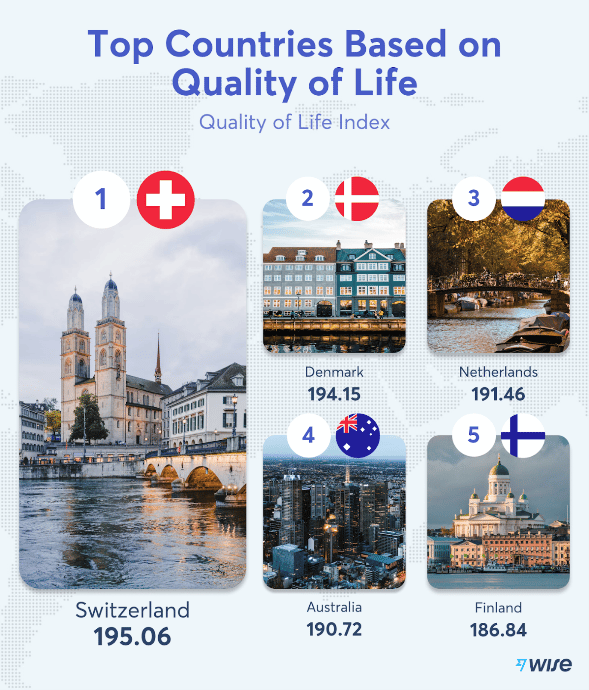 Arun Tharmarajah, Head of Europe at Wise comments,
"As the population ages, the question of where to retire is likely to be on many people's minds. Taking these factors into account, from quality of life to how expensive a country is to live, can have a significant impact on the quality of your retirement, and how far your savings and pension pot will go. With Wise's research, people nearing retirement can make an informed decision on where to go, consider their financial options, and set themselves up for many happy years abroad."
Methodology
The resources created for this ranking are based on data by Numbeo, Worldbank, Countryeconomy, put together by Wise in October 2022. To calculate the index, we normalised the data categories individually from 0 to 10 and then added up the results.
Cost of living – The country with the highest cost is weighted closer to 0
Healthcare – Lower healthcare rate are deemed less desirable so are weighted down
Quality of Life – Lower quality of life rate are deemed less desirable so are weighted down
Population Above 65 – Lower proportion of population is weight closer to 0
Climate – Lower climate rate is less desirable so weighted down
Happiness – Lower happiness rate is less desirable so weighted down
Safety – The country with the lowest safety rate would be weighted closer to 0
If you are planning to retire abroad watch the recordings of our recent Retire Abroad Virtual Roadshow webinar.