Organising Your Retirement To France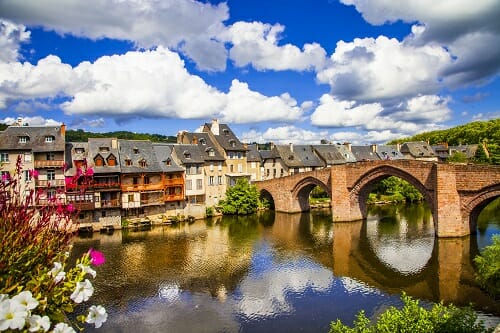 Retirement abroad is increasingly popular, with over one million British expats having their pension paid overseas. It is less common for citizens of the US to retire abroad, but there are around 550,000 Americans who receive their social security benefits abroad. 
Non-EU citizens can obtain a long-stay visa for retirement in France, which allows you to reside without working or doing any lucrative activities. You will need to fill out an application and have a number of documents, including a passport valid for one year, medical certificate confirming you have no contagious diseases, proof that you have the financial means to support yourself (and any accompanying family) without the need to work.  You should contact the local French consulate to obtain the detailed requirements.
Rent Or Buy?
There are many issues to be considered when deciding whether to rent or buy your home in France.  Rental arrangements allow for greater flexibility if you suddenly need to return to your home country for unexpected reasons (such as health or family issues). It can be sensible to rent initially even if you plan to buy so that you can get to know the area and experience the lifestyle before committing to buying a property. This also allows you to know the local property market and be sure you have chosen the right location.
Buying your property gives a greater security and allows you to see this as your home with the freedom to do what you want to your home. There is always the risk of the market falling and leaving you unable to sell in the short term until the market recovers. Provided you do not intend to leave this will not be a problem, but if you feel you may decide to return home this is a risk to consider.
Funding
When planning your retirement anywhere you will need to know what funds will be available to you.  This may include personal and state pensions or social security benefits.
You can fill in the international claim form, which requires a wide range of information about your past addresses and employers etc.  It may be easier to make a claim by phone on the number below.
You will need to provide your National Insurance Number (plus your spouse's), details of your most recent employer, current address, most recent address in the UK.  They will also ask various questions such as when you moved abroad.  You will also need the account details of your UK bank account or the international bank account number (IBAN) and bank identification code (BIC) numbers for your overseas account if you wish to have the pension paid abroad.
International Pension Centre
tvp.internationalqueries@dwp.gsi.gov.uk
Telephone: +44 (0)191 218 7777
Textphone: +44 (0)191 218 7280
Monday to Friday, 8am to 6pm
Find out about call charges
The Pension Service 11
Mail Handling Site A
Wolverhampton
WV98 1LW
United Kingdom
The Basic State Pension for 2022 is £185.15 a week for a single person provided you have a minimum of 30 years' national insurance contributions during your working life. You can claim this wherever you live once you qualify for the UK state pension. The pension can be paid into a UK bank or directly into an overseas account in the local currency (saving transfer fees and bank charges). You can choose to be paid every four or 13 weeks, but if your State Pension is under £5 per week, you'll be paid once a year in December.
If you work abroad before retirement it may be possible to receive the state pension from more than one country.
If you have to retire early, or have yet to start drawing a pension, there is the possibility of moving your pension pot overseas. You can do this by transferring it to a Qualifying Recognised Overseas Pension Scheme (QROPS). These can be based in the new country you are moving to, or set up offshore.  The income from QROPS may also be taxed favourably in your country of residence. Advice should be sought from a specialist, regulated financial adviser before doing this.
If you are American and thinking about retiring abroad, find out if you can receive your Social Security or other federal agency benefits outside the United States. The Social Security Administration's Office of International Operations (OIO) provides such information, and consular officers at the nearest American embassy or consulate can also assist you.
You can have US Social Security Benefits paid while living outside the US. You can find a guide at http://www.socialsecurity.gov/retirement/retirement.htm
Enjoying Retirement In France
You will know what it is about France that has attracted you to retire there, but you should be clear on how you plan to spend your time. As with retirement anywhere you cannot approach it as an extended holiday. You may have spent time in your intended new home area, but have you been there out of season. Consider what you will do when the weather is not as reliable.
There are many other expats living in France and many clubs around the country, including sporting and special interest clubs.  Getting involved with such clubs can be a great way to meet people with similar interests, but there will also be popular bars, restaurants, golf clubs, gyms and other places where as a regular visitor you will soon meet other long-term residents.
Healthcare
France is a world leader in medical science and standards are among the highest in the world. Hospitals are generally clean, efficient and well equipped. Medical specialists are plentiful, and waiting lists for treatment short.
The system consists of both state-operated hospitals, required to treat all patients regardless of their ability to pay, and private facilities. Private hospitals or clinics are preferred by expats for elective surgery despite their high fees. Medical staff there will almost certainly speak English. For any major treatment, whether elective or not, it is wise to shop around and to compare the costs. It may also be worth considering treatment outside France.
Many hospitals have 24-hour emergency facilities. You should note your nearest one in case of emergency. Maternity facilities are generally good, and accept new mothers for stays of between five and 14 days.
If you need emergency assistance at home you can call either the fire department – pompiers – or SAMU, Service d'Aide Medicale d'Urgence, a combination of fire and ambulance service well-trained to deal with medical emergencies. SAMU will send a fully-equipped ambulance for transportation to the most appropriate hospital. You will be billed by either of these services, but you can seek social security or insurance reimbursement.
Resident foreigners legally working in France and their families are eligible for the French national health insurance system, Sécurité sociale. Supplementary medical insurance is also available from groups called Mutuelles d'Assurances.
If you are planning to retire abroad join us for our Retire Abroad Virtual Roadshow in the week commencing 23rd January 2023.