Property Options In Australia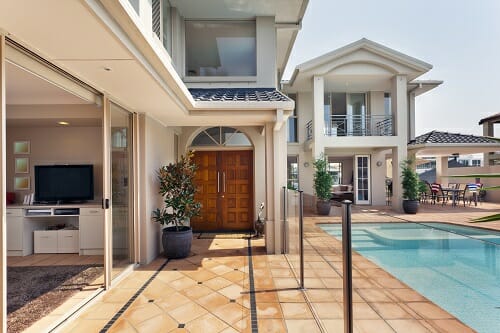 When moving to Australia there are several options for where to live and in what type of accommodation.  It is often necessary to find temporary accommodation while you decide where you want to live long-term.
While you find the solution there are a number of options:
Traditional hotels– This can be an option if only needed for the short term.  However, when the entire family arrives together this can be expensive and can create problems where there is no privacy available in separate areas for relaxation and study. Eating out every night, while initially attractive, can soon lose its appeal.
Extended-stay hotels– In most Australian cities multi-room suites are available with one or two bedrooms, a living area including basic kitchen facilities and limited hotel facilities. This gives the option of self-catering to keep costs down and some separate rooms to give a degree of privacy. These can be a viable alternative if it will take a month or so before moving into longer term accommodation.
Serviced accommodation– This is a popular solution and widely available in cities around Australia ranging from deluxe solutions through to more basic options available that are appropriate for those with smaller budgets.
Accommodation Choices
When you are deciding where you are going to live longer-term during your stay in Australia your choice will depend on various factors: the expected length of stay; market factors; whether you are travelling alone, as a couple or as a family; available budget; whether you are financing the cost yourself or being provided by your employer as part of a package.
There are generally a number of options:
Serviced apartment – The advantages of this option have already been covered and for some it is a very attractive lifestyle with all the facilities provided and an active community of like-minded people in the building.
Purchase – If you are moving to Australia with the intention of staying permanently buying a property can be attractive.  There is always the risk that you will be forced by circumstances to return to your home country unexpectedly, but if you are happy that this is a low risk, purchasing a property can be advantageous. You will need to ensure that you understand the market and the risks and opportunities you face. If you are planning to buy in Australia see Chris Nye's guide to the buying process in Australia below.
For many, the logic of home-ownership is unquestionable with money spent on rent money seen as dead money and with property prices always going up.  70% of Australians buy their property and there are many non-financial benefits such as the security of knowing you cannot be asked to leave if the landlord's situation changes and the freedom to personalise the home.  The costs of home ownership should not be underestimated, however, with stamp duty, maintenance, local council charges, water bills and strata levies as well as interest costs.
Returns on property investment can be very attractive, but history shows that, although there have been prolonged periods of rising prices in Australia, there have also been periods where there has been stagnant or falling prices.  If you are only planning to be in Australia for a limited period the risks of leaving or of having to leave early due to unforeseen circumstances at a time when prices have fallen makes purchasing a property a real risk.
Rented accommodation –  If you are not moving permanently to Australia, a rental property can be a sensible option. Even if you intend to purchase a home in Australia it is worth considering renting first. This allows you to become familiar with the different communities in and around a city.  You can then make a more educated decision about long-term housing.
In different parts of Australia there will be choices to suit most situations.  Properties are generally unfurnished, but there are furnished properties available in most areas (but they may not be fully equipped with kitchen equipment).  The advantages of renting include the ability to match the term of the rental to the length of your expected stay and not having to deal with maintenance and equipment faults.
Pet owners may find limited options for renting a home as many do not allow pets.
Most cities have a standard minimum lease term of six months or one year.  A deposit will be payable, which normally includes a 4 weeks bond and one month's rent in advance. The bond is held by the Rental Bond Authority with the inspection report and will be returned when you leave, subject to the cost of any cleaning or repairs required.
Properties are listed with estate agents and it will be necessary to see what all of the local agents have on their books as they will not have access to other agents' properties as you can in the US with their multi-listing system.  Agent's commission is generally paid by the landlord.
It is generally possible to negotiate a break clause provided it is negotiated in advance.
Going-There produce a useful Global Leasing Report bi-annually, which shows the typical rents and the terms available in different cities around Australia (and around the world).