Passport And Visa For Canada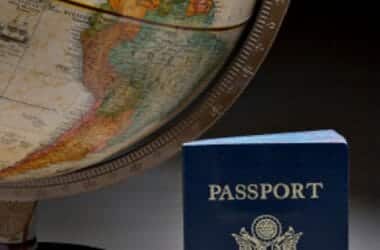 There are a range of visa options depending on the purpose and timing of your planned stay in Canada.  There are visas that give the right to temporary residence and those that allow you permanent residence.
If you are entering Canada by air from most countries you will need an Electronic Travel Authorisation (eTA), but if you are entering by land or by boat you will simply need a valid passport.  You can check whether you need an eTA on the Government of Canada website.
If you want to extend your stay in Canada, you must apply to do so before the expiry of your temporary resident status. You should apply 30 days before your status expires to:
extend your visitor, student or work status,
change your permit type (for example, from a study permit to a work permit) or
change your permit condition(s) (for example, if you are studying and you want to change schools, or if you are working and you want to change jobs).
Find out how to extend your stay as a visitor.
If you want to work temporarily in Canada, study or emigrate permanently to Canada you can  check your eligibility on the Citizenship and Immigration site.  You can also contact your nearest Canadian embassy or consulate for specific details.
Permanent Residence
If you plan to immigrate to Canada there are a number of options depending on whether you plan to work, set up a business or join family in Canada.
Skilled workers
There are a number of options for people with professional and other skills to apply to immigrate to Canada:
Start up visa
Canada's Start-up Visa Program targets immigrant entrepreneurs with the skills and potential to build businesses in Canada that are innovative, can create jobs  and can compete on a global scale.
Before you apply you need to show that you are eligible for the Start-up Visa Program.  The idea must be supported by one of the designated organizations, which are a series of approved venture capital firms.
The ownership requirements mean that up to five people can apply for the Start-up Visa Program as owners of a single business. However, each applicant must hold at least 10 percent of the voting rights in the business and the designated organization and the applicants must jointly hold more than 50 per cent of the voting rights in the business.
You also need to meet the language requirements and have enough money to settle in Canada.
To apply you need to get the application package, which includes a guide and all the forms you need to fill out to apply to the program, pay the application fees and submit the application.
Family sponsorship
Canadian citizens and permanent residents (plus Canadian Indians) over 18 can sponsor certain relatives to go to Canada provided you can support them financially.  You can find more detail following these links:
Spouse, sponsor or dependent children.Spouse includes common-law partner who can be of either sex and have lived together for at least 12 months and conjugal partners, who have a binding relationship but have not been able to live together for 12 months.  If your spouse or partner needs to work while waiting for the application to be processed, you may be able to apply for an open work permit.
Parents or grandparentsIf you sponsor your parents and grandparents to come to Canada as a permanent resident, you must:

support them financially for 20 years
make sure they don't need social assistance from the government
provide for your own essential needs and those of your parents and grandparents and their dependants

Orphaned or other relativesYou can sponsor an orphaned relative if they are under 18 without a spouse, conjugal or common-law partner.  They must be related to you by blood or adoption, (eg. sibling, nephews or nieces or grandchildren).

You can sponsor one relative related by blood or adoption if you do not have any other relative you can sponsor under the other categories.
Temporary Residence
Working in Canada
If you are visiting Canada for business purposes but will not be taking a job in Canada, you do not need a work permit.
Canada uses the National Occupational Classification (NOC) system to classify jobs (occupations). Jobs are grouped based on the type of job duties and work a person does.
You will need a work permit before taking up a job in Canada, unless the role will only involve working for 15 consecutive days once every six months or 30 consecutive days once every year and under the NOC is a managerial role (Skill Type O) or is a professional job that normally requires a degree (Skill Level A).
There are a number of factors that will determine whether you are eligible for a work permit.  You will need to demonstrate that you will leave Canada when your work permit expires, show that you have enough money to take care of yourself and your family members during your stay in Canada and to return home, have no criminal record (you may be asked to give a police clearance certificate), be in good health (a medical exam may be needed) and work for an eligible employer.
There are two types of work permit in Canada:
Open work permit – allows you to work for any eligible employer
Employer-specific work permit – specifies the employer, location and duration of your work permit.
Study in Canada
If you plan to study in Canada you will need to obtain a study permit, which allows foreign nationals to study at designated learning institutions (DLI) in Canada.  Permits are normally issued for the planned period of study plus 90 days.
You can work part-time on-campus if you are registered as a full-time student at a college or university.