New Islands for Dubai's The World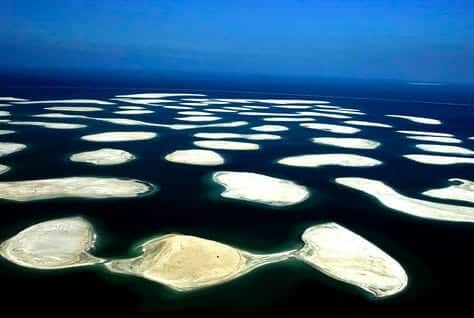 Plans to build an archipelago of artificial islands forming the continent of Australasia as part of The World development off the coast of Dubai have been unveiled.
A deal is reported to have been signed by OQYANA Real Estate with floating island expert Dutch Docklands to create a series of private island villas within the OQYANA World First development.
OQYANA World First is the developer's flagship project and comprises high-end villas opening up onto private beachfronts, contemporary seaside apartments and hospitality and retail elements.
The deal was inked in Dubai between Ali O Alghannam, CEO of OQYANA Real Estate and Paul van de Camp, CEO of Dutch Docklands.
Zeyad Abdullatif Janahi, chairman of OQYANA Real Estate Company, said: "This is a historic day for us all. We are very pleased with our collaboration with Dutch Docklands, and the ability to bring their specific expertise to OQYANA World First, the leading project in The World development.
Van de Camp added: "Dubai is an amazing city and The World project is a fabulous development. Having your own private island close by a world class city will be a unique opportunity for a very selective group of people that only want the best.
"Our Amillarah Private Islands are completely self-supporting, scarless and all contain the latest state-of-the-art technology. Each one will be a piece of art that you can live in," he said.
OQYANA is also the company behind the Water Garden City project in Bahrain.
Source: Arabian Business
More info: http://tinyurl.com/kdywmmo