McDermott wins Aramco contract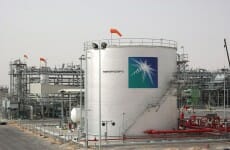 Construction and engineering company McDermott Middle East has wins initial work contract by Saudi Aramco for a key power supply system replacement for the offshore Marjan field.
Work is expected to be executed through the fourth quarter of 2016 and will be included in McDermott's first quarter 2015 backlog.
The overall brownfield project comprises integrated engineering, procurement, construction, installation (EPCI) and replacement of the decks of two existing tie-in platforms, as well as the removal and salvage of existing gas turbine generators, and the installation of two new 115kV subsea power and communication cables.
The initial scope of work awarded on Tuesday, comprises the engineering, procurement, fabrication and load-out of the platforms and cable.
"McDermott's continuing relationship with Saudi Aramco and our commitment to the Kingdom of Saudi Arabia is reflected in this project award, as well as our ability to provide integrated services and an efficient technical solution within an active production field," said Tom Mackie, McDermott vice president, Middle East.
"We approach facility modifications with safety and our client's production in mind, using the latest technology, a full suite of design disciplines and proprietary McDermott processes to minimize operational interruption."
Engineering is expected to be carried out by McDermott's specialist teams in Dubai; Al Khobar, Saudi Arabia; and Chennai, India.
The two new electrical decks are scheduled to be fabricated at the Dubai-based fabrication facility.
Source: Arabian Oil & Gas
More info: http://tinyurl.com/kbt7766