McDermott awarded QP EPC contract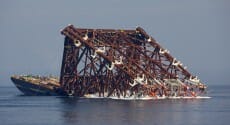 McDermott has been awarded new EPC contract by QP (Qatar Petroleum) for the North Field Alpha gas development project, offshore Qatar.
The contract includes front-end engineering design verification, detailed engineering, procurement, construction and installation (EPCI) as well as the commissioning of a new six-legged, 15-slot wellhead jacket and temporary drill deck.
As part of the deal, QP has ordered the decommissioning, removal, replacement and pre-commissioning of 2.6 miles of composite umbilical and a fibre optic cable, in its Maydan Mahzam field.
"For more than 30 years, McDermott has successfully delivered numerous projects for Qatar Petroleum and its partners in Qatar's North Field, and we are pleased to further build on this relationship, as they focus on enhancing their oil recovery and production capability," said Tom Mackie, vice president, Middle East.
"We believe our ability to provide a fully integrated EPCI solution from one centralized location in Dubai will enable us to be more effective at ensuring certainty of delivery across all stages of the project allowing for more scheduling flexibility, and higher quality and safety, which is critical when working within an actively producing field, to ensure minimal operational interruption."
Detailed engineering, procurement and construction is expected to be carried out by McDermott's specialist teams in Dubai with vessels from the McDermott global fleet scheduled to undertake the installation work in 2016.
Work is expected to start in the second quarter of 2016 and will be included in McDermott's first quarter 2015 backlog, the company said.
Source: Arabian Oil & Gas
More info: http://tinyurl.com/mfy6y63