Italy's Drillmec win Rig Projects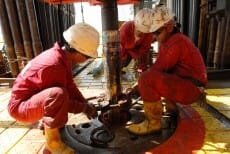 Italy's Drillmec has won orders to supply rigs for projects in Algeria and Saudi Arabia.
The company, which is part of the Trevi Group, has signed an agreement for the supply of two rigs of 2000hp AC HSL (Hydraulic Swing Lift) with one of the largest drilling contractors operating in Saudi Arabia.
The Saudi company has operated for more than 50 years in the industry and has an important role in the expansion programme of Saudi Aramco, the leading oil company in the country and world leader in proven reserves.
The two rigs, which will commence the drilling activities of new production wells as of Q3 2015.
It has signed a contract for the supply of five 2000hp AC rigs and two 3000HP rigs with ENAFOR, an Algerian drilling services company and acting on behalf of SONATRACH, the national oil company and largest African operator.
The two rigs of 3000HP will be the first of such power acquired and operated by ENAFOR, specially designed and intended for deep drilling where high temperatures and pressures exist.
The other five rigs of 2000 HP will be allocated to the drilling of new oil wells that are part of the national oil company's expansion programme.
Source: Arabian Oil & Gas
More Info: http://tinyurl.com/lsxcykk