Italian HS construction contract wins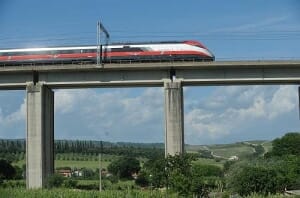 Italian Railway Network (RFI) has signed two contracts for civil works on new high-speed lines in northern Italy.
Cepav, a consortium of Saipem (52%), Società Italiana Condotte d'Acqua (12%), G Maltauro (12%), and Pizzarotti (24%), has been awarded a €768m contract to carry out civil works on the Brescia – Verona high-speed line. This €3.95bn project is currently in the final stages of approval by the Interministerial Committee for Economic Planning (CIPE), which will assign the budget for construction to RFI, and civil works are expected to begin in the first half of this year.
The second contract, which covers civil works on the Verona – Vincenza section of the Verona – Padova high-speed line, has been awarded to Iricav, a consortium of Fintecna, Salini Impreglio, Lamar Contracts, Astaldi, and Pipelines. Construction is expected to begin by the end of this year and the total budget for the project is €4.15bn, which includes €190m for connections to the conventional network in the Verona area.
Source: International Railway Journal
More info: http://tinyurl.com/ljxtbjj