Istanbul approves mega-tunnel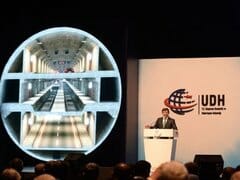 Istanbul's municipal authority has given the go-ahead for a three-level, sub-sea mega tunnel project.
 The estimated US$3.5bn scheme was recently announced by Turkey's prime minister Ahmet Davutoglu
The mega-project will have a three-storey, sub-sea tunnel under Istanbul's Bosphorus Strait, which will connect the city's two sides with one railway and two highways.
The project was the main issue on the municipal council's agenda this week and was approved after an hour-long discussion.
Abubekir Taşyürek, deputy chairman of political party AKP, said that the party was proud of the project, emphasising its compatibility with legal obligations and the environment. "There is no legal problem regarding the project," said Taşyürek. "We did not rush anything. The Ministry of Transport & Communications, the Environment and Urban Planning Ministry, and experts from the Istanbul Metropolitan Municipality have been working on this project for months. It is also an environmentally-friendly project. According to calculations, fuel oil consumption will decrease by roughly 54 million litres due to the project and carbon emissions will decrease by 175t per year. The project will not damage the city's silhouette either."
Source: Construction Index
Link:  http://tinyurl.com/lnxb7ny