Green light for Knottingley power station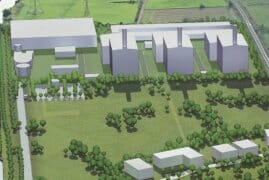 Ireland's Electricity Supply Board  has been given the final go-ahead to build a 1500MW combined cycle gas turbine power station at the site of the former Oxiris Chemical works in Knottingley, Yorkshire.
The application for the Knottingley power project has been given development consent by the Department for Energy & Climate Change, supporting the recommendation made by the Planning Inspectorate in December 2014.
The £750m project is being developed by Knottingley Power, which is a wholly owned subsidiary of the Electricity Supply Board (ESB), the state-owned electricity company in Ireland. Building the new power station is expected to create approximately 1,000 construction jobs.
ESB has been involved in the British energy market since the early 1990s as the developer and owner of Corby Power Ltd, one of the first independent power projects in the UK. ESB also developed the 842MW CCGT plant at Marchwood near Southampton, which began operating in 2009, and its 880MW CCGT plant at Carrington near Manchester is expected to enter commercial operation this year 2015.
Planning Inspectorate chief executive Simon Ridley said: "This is the 36th application for a nationally significant infrastructure project to be examined by The Planning Inspectorate. The examination, recommendation and decision have been within the statutory timescales laid down in the Planning Act 2008.
"Local people, the local authority and other interested parties were able to participate in the six month long examination. This, together with the certainty of knowing when a decision will be made, provides confidence in the planning process and aide the infrastructure improvements this country needs to secure its energy and future economic growth."
Source: Construction Index
Link: http://tinyurl.com/ohfb379