GE Lands $850m Ghana Order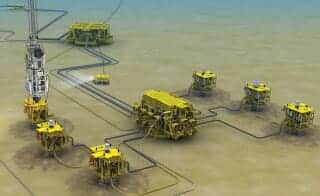 GE has secured an $850 million deal across its oil & gas business for the supply of equipment to the Offshore Cape Three Points (OCTP) block, Ghana.
According to GE, this order incorporates both turbomachinery and subsea elements, with the first shipment planned for Q4 2015.  Further shipments are planned in order to deliver first oil by 2017.
The Turbomachinery Solutions scope, consisting of three LM2500+G4 Gas Turbines for Power Generation and four Centrifugal Compressors Electric Motor Driven, will be delivered solely by GE.  Engineering will utilize multiple areas of the company's expertise, across its Italian (Florence and Massa) and French (Le Creusot) operations. The four Electric Motors suitable for a floating, production, storage and offloading vessel (FPSO) together with three Electric Generators for Gas Turbines will be delivered to GE Oil & Gas by GE Power Conversion.
The subsea production system will be delivered by a consortium between GE Oil & Gas and Oceaneering and includes the Subsea Production and Control System (SPS) and umbilicals engineering, as well as project management, fabrication, transport and testing.
"This order draws on the full range of GE expertise" said Lorenzo Simonelli, President & Chief Executive Officer, GE Oil & Gas. "It shows the value of our broad technology scope, cutting across two of our business units and leveraging the GE store to deliver innovative, economic solutions for our customers. In addition, it shows the importance of our commitment to local partnership and capacity building in order to deliver the most effective and efficient solutions for our customers. We are committed to partnering with Ghana to help support and build critical skills and infrastructure development for the country's future growth."
In order to deliver asset management services to the Offshore Cape Three Points development, it has also established a Joint Venture with an indigenous company. Alongside this, it is funding the development of a local capacity and skills development programme, with the Ghana National Petroleum Corporation and Ashesi University. These investments will help GE grow its employee count in Ghana by 65% and support the training and development of Ghanaian oil and gas professionals over the next few years.
The subsea scope of the order was booked directly with Eni Ghana and its Partners Vitol and GNPC. The Turbomachinery scope has been awarded by Yinson Production (West Africa) Pte Ltd, which is the company selected by Eni and its Partners Vitol and GNPC for the FPSO vessel.
The OCTP block is located in offshore Ghana at a water depth of 500-1100 meters, 60km from the coast. Eni's partners on the block are Vitol Upstream Ghana Limited (35.556%) and the Ghana National Petroleum Corporation (GNPC) (20%).
Source:  Sub Sea World News
More info:  http://tinyurl.com/phll6o4