Ferrovial landed contract in Poland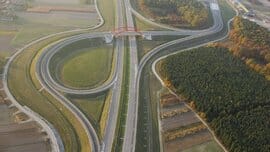 A consortium including Budimex and Ferrovial Agroman has been selected for a €154 million contract for a new section of the S3 expressway in Poland.
The 22.6km stretch of road will include dual carriageway in both directions, located between Nowa Sol and Legnica in the south west of the country.
Commissioned by Poland's General Directorate for National Roads and Motorways, the project will create three new junctions, several walkways and a tunnel for bikes. Construction work is scheduled to be completed within 30 months and is part of the wider S3 road scheme
Its development comes as research group PMR has released its latest study, which forecasts that the Polish roadbuilding sector will grow by more than 10% in 2015.
The organisation said analysis of the Polish government's road infrastructure programme suggested that roadbuilding activity would peak over the next three years.
It estimated that road and bridge-building work would be worth around €7.9 billion at the peak of the market. It said this would be €1.1 billion lower than Poland's record year in 2011.
Bartlomiej Sosna, PMR's head construction analyst, said, "As of 2015, the recent price drops in the fuel market should start having a positive effect on the profitability of contracts secured in 2014.
"Lower fuel prices will allow a genuine buffer for contractors which will safeguard the profitability of contracts, even if the prices of building basic materials, such as cement or concrete, go up".
Source: KHL
Link:  http://tinyurl.com/nslwk8z