Expats Miss Marmite The Most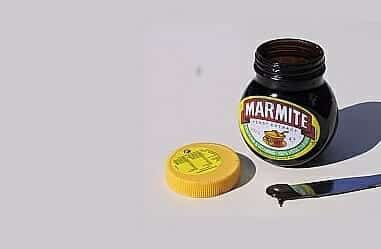 A poll has revealed the foods people living abroad miss the most from back home – and home-cooked classics and national dishes are nowhere to be seen.
For expats and immigrants, it's the cupboard fillers and takeaway guilty pleasures they miss the most.
The survey, conducted by London removals and shipping firm Kiwi Movers shows English and Welsh people living abroad miss Marmite the most, followed by Cadbury's Dairy Milk chocolate, Branston Pickle and Warburtons crumpets – all difficult to get abroad.
Scottish people living away from home were a different case entirely. The iconic Mortons crispy roll, a breakfast favourite that's extremely hard to come by outside of Scotland, was the most missed item.
Nostalgic Scots living abroad also listed Irn Bru (widely available in England, though not in glass bottles and like gold dust in mainland Europe and North America), square sausages and macaroni pies among the products they longed for.
Tayto brand crisps came top for the Republic and Northern Ireland. Followed by Brennans bread and sausages from Superquinn, an Irish supermarket chain. Barry's Tea was only the fourth most popular choice, surprising given the Republic of Ireland is the world's biggest per capita tea drinking nation.
Dr. Greg Moakes, a scientist from Nottingham, England now living in Dallas, Texas said: "I've lived in America for more than ten years and I love the food here. I've discovered some great stuff that I'd definitely miss if I ever moved away. But sometimes you just want a familiar snack. I go back to the UK once a year and I always make sure I pack a few bits and pieces to take back, normally some chocolate, Marmite and decent teabags.
"I've tried explaining Marmite to Americans, but when you start talking about yeast extract you can tell they think it sounds disgusting, which it does to be fair. You've got to taste it I suppose.
"You can get British imports over here but it's hard to find Marmite in particular – probably because they've only got half of the British expat market to sell to given its reputation – and it's so expensive."
 Other Expats
 Americans. Twinkies, rare in the UK, were America's most missed treat. Followed by Lucky Charms cereal, once readily available in the UK but now an expensive import costing upwards of £5 per box. S'mores and Old Bay seasoning followed.
Canadians. Poutine – a Canadian speciality consisting of french fries, gravy and cheese curds – got the biggest national reaction. More than half of the Canadians who participated in the study said that was the food they missed the most. 'Proper' maple syrup came second to poutine, with the Citadelle brand most cited. Ketchup-flavoured crisps and hickory sticks provoked nostalgia.
Australians & New Zealanders. Arnott's Shapes, an iconic savoury cracker-based snack was the top choice for both Australians and Kiwis living abroad.
South Africans. Perhaps the oddest food on the list was the buttermilk rusk, popular in South Africa but very tricky to get in the UK, where more than 220,000 South Africans currently live. South Africans also listed Ceres Juice, a South African brand of fruit juice, baked maize snack Willards Flings and Mrs. Balls Chutney.