Expat Living Winter 2016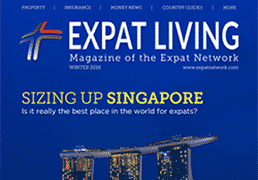 Expat Living Magazine – Winter 2016
Get All The Latest On Expat Living
SIZING UP SINGAPORE: Is it really the best place in the world for expats?
In this edition of Expat Living we have brought together a range of features and news which address the expat experience, whether you are heading to Singapore or Spain.
We also look at property prospects if you are considering a move to Australia or New Zealand and examine how not to lose money in foreign exchange.
Plus, are you sure you are properly insured if you head off to a danger zone?
We hope this e-magazine brings you the essential information you need for your life overseas.
READ ONLINE or download a FREE PDF Version to your pc, tablet, phone or e-reader.