ETA ASCON to build Abu Dhabi School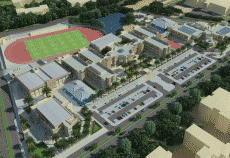 ETA ASCON Construction has been awarded the New International School Project located in Ruwais, Abu Dhabi, by the Abu Dhabi National Oil Company (ADNOC).
The development encompasses a two-storey school that includes a mosque with a capacity for 95 people.
External work includes shaded playing areas, boundary wall, shaded and exposed car parking, buses parking and drop-off points, service buildings, guard room, link bridge between phase-1 and phase-2, gates & football field & bleachers.
The project is valued at AED260m ($70.9m) with the total built-up area of 300,000m2. The length of the project is about 74 weeks starting from this month.
CEO of ETA ASCON Construction, Panicos Euripides, said: "The UAE is an important market for the Group; and although the country faced challenging times in the past, the construction sector is healthy. This is another positive sign that the UAE economy is growing and that the Construction Markets in the UAE is active again. The "New International School" project is our fifth secured project with ADNOC since we started operating in Abu Dhabi in 1982 and presents another solid step in establishing the company as an important player in the UAE Construction Market and strengthens the group's strategic plan for 2015. We are proud to be awarded repeated projects with ADNOC and we very much value this special relationship which we have built over the years due to our outstanding performance that has earned us the trust and confidence of our clients."
Source: International Construction News
Link: http://tinyurl.com/lt6rus9