Egypt awards Alstom Cairo Metro deal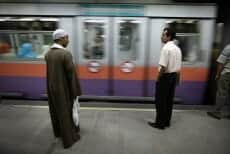 Alstom has been awarded two contracts worth $84.7m to supply the signaling system and infrastructure for Phase 4A of the Cairo Metro Line 3 which will eventually extend from the northwest of Greater Cairo to Cairo International Airport.
The contracts were signed recently with Egypt's National Authority for Tunnels (NAT).
The Cairo Metro carries more than three million passengers a day over its network of two fully operational lines and the semi-completed Line 3, which is partially open. Forecasts say the total number of passengers could reach five million a day by 2020, with as many as 750,000 using the Line 3 service.
Alstom will provide its Urbalis 200 signalling system as well as points machines and station signalling equipment under the new contracts, in addition to electromechanical equipment including power supply to feed the third rail, ventilation systems and elevators/escalators.
"We are pleased that NAT has entrusted Alstom with these new contracts. This is a continuing partnership that was initiated more than 30 years ago. NAT can be reassured of Alstom's engagement to further develop Cairo's metro network," said Gian-Luca Erbacci, Senior Vice-President of Alstom Transport for Middle East and Africa.
Alstom has been a long-term partner with Cairo Metro and has supplied trains as well as infrastructure, signalling and services solutions for lines 1 and 2. In January 2015 the company also signed a contract to modernise the signalling systems on Egypt's regional railway line from Beni Suef to Asyut.
Source: Construction News online
Link: http://tinyurl.com/ouosk3l