Eagle Hills 'plans $80bn Egyptian city'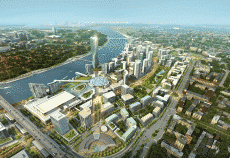 Eagle Hills, an Abu Dhabi-based developer,  is reportedly planning to build a new city near Cairo, costing up to $80 billion over a 12-year construction period.
Bloomberg quoted two people with knowledge of the matter as saying the new city will include an airport, hotels, and a mall as well as amenities such as hospitals and schools.
Separately, Ashraf Salman, Egypt's minister of investment, told Bloomberg TV that the choice of developer has been narrowed down to two companies from the United Arab Emirates, declining to name them.
The project will be formally announced by Egypt's government at an international investors conference next month, Bloomberg said, adding that the project will be built to the east of Cairo.
Eagle Hills is led by a team of executives who worked at Emaar Properties, including Emaar's current chairman, Mohamed Alabbar, who is a board member.
Last month, Egypt's Prime Minister Ibrahim Mehleb was quoted as saying that Dubai-based Emaar was expected to play a key role in building a new capital city in Egypt.
Source: Construction Week Online
Link:  http://tinyurl.com/k8rauda