Driving in America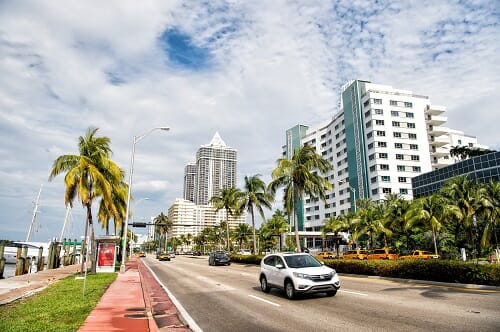 In the USA driving is an essential part of the culture. This is partly driven by the practicality of getting around in a country so large and partly a function of the lifestyle. In some of the major cities there is an extensive public transport system, but the cities are all served by extensive multi-lane freeways, many of which regularly grind to a slow crawl during busy periods of the day.
Anyone driving in the USA must have a valid driving licence from their home country and some States also require you to have an International Driver's Permit (IDP). Contact the motor vehicle department of each state you will drive in for its requirements.
An IDP is not a licence but confirms that you have a valid driving licence from your home country. If you are a short term visitor you may be required to have an IDP and if you are renting a car it is worth checking the requirements. You cannot obtain an IDP in the USA and so you need to obtain one in your home country.
Residents (Non-US citizens)
The requirements for a driving licence are set by each State, but once you have a licence from the State where you are resident it will be valid for driving anywhere in the USA. In most States, the authority responsible for issuing driving licences is called the Department of Motor Vehicles ("DMV"). In some States, however, it has a different name (eg. in Massachusetts' Registry of Motor Vehicles (RMV) or in Tennessee's Department of Safety (DOS)).
It is worth checking online on the requirements of the State where you will be resident prior to your arrival as you may need to obtain a US driving licence soon after arrival. You can generally download the forms and obtain information to prepare for the driving test before you get there.
Driving Test
The exact requirements vary by State but applications for a driving licence generally require you to take an eye examination, a short test on local driving regulations, and a road test of driving ability. The road test is sometimes waived for those renewing a licence or where they have a valid license from other States or other countries. In some States that waive the requirement for a road test they require a test for those over 75.
The driving licence is valid for up to five years and has the holder's photograph and personal information such as address, height, weight, and eye colour. The licence will also indicate an restrictions, such as the requirement to use corrective lenses.
The driver's licence must be carried whenever you are driving. It is also the most commonly used method of proving your identity when travelling on internal flights, seeking credit, cashing a cheque etc.
The minimum age for obtaining a driver's licence varies by State and ranges from 15 to 18 with around half having 16 as the minimum age.
Driving Conditions
The USA has the most extensive network of roads in the world with Interstate highways, state highways and secondary roads. Conditions are generally excellent with multi-lane highways in busy areas and even local roads are often very broad. Limited State budgets and winter conditions, particularly in the North, can mean significant potholes, but generally the roads are well-maintained.
Guidelines for driving in the United States
There are a number of special arrangements when driving in the USA. Driving in the US is on the right side of the road nationwide. You are required to overtake to the left, although overtaking on multi-lane roads is common on both sides.
One of the special arrangements in the US is that in most states you can turn right after stopping at a red light, providing no traffic is immediately oncoming, and there is no sign to the contrary. There is no turn on red in New York City.
Rules are very strict around schools and school buses with 20 mph speed restrictions near schools and drivers must stop when encountering a school bus loading or discharging passengers, even if the bus is on the opposite side of the road.
Drivers must also slow down or stop and pull over to the side when they hear sirens of emergency vehicles.
It is worth checking the complete list of regulations published by the State where you will be resident. These can be obtained free-of-charge from the DMV for each State.