Costa Blanca And South East Spain: Popular Areas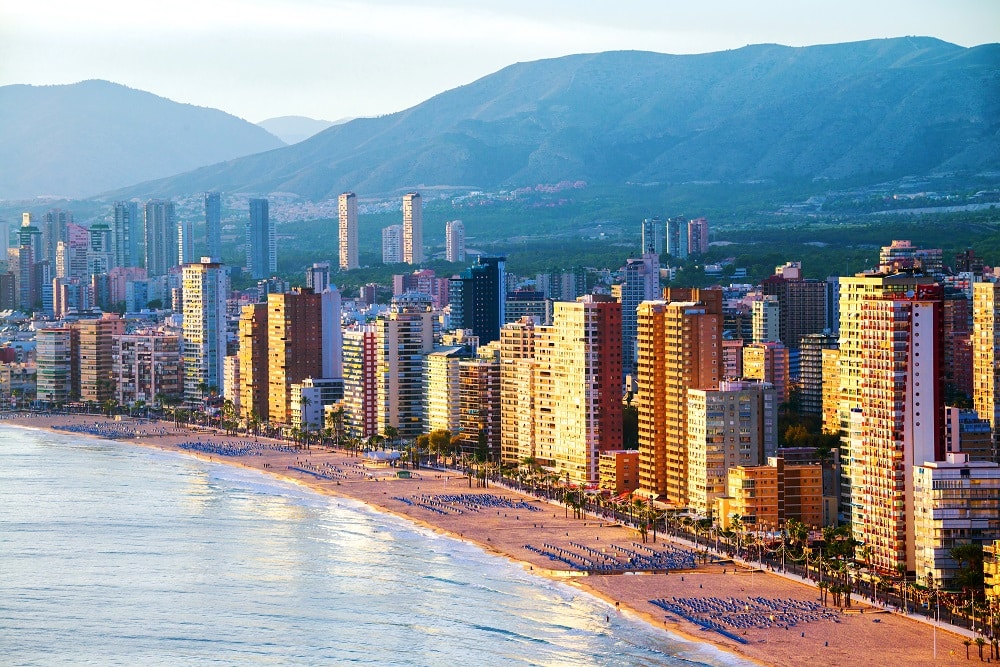 Many expats looking to settle in Spain to live, work or retire are attracted by the climate and lifestyle to the Costa Blanca and the regions of South East Spain.  Here Girasol Homes outline the attractions of these popular resorts and cities.
Written by Nigel Salmon, Founder and MD, Girasol Homes
Alicante
The property market in the Alicante region is continuing to thrive. New and established developers have learned many of the lessons from 2008 and are focusing on modern, high-specification but reasonably priced homes and apartments. Properties, including new builds and bank repossessions are individually added to our site on a daily basis.
Living in Alicante 
When you know what there is in the area, there's no wonder Alicante real estate is so popular. The Alicante region is on the eastern coast of Spain and has long been a popular choice for those looking to buy a property in Spain. For the majority of the year, the climate is one of sunshine and very little rain. Summers are long and hot, while winters are typically mild. Rain, when it falls, is generally restricted to the spring and autumn. With an average of over 320 days of sunshine a year, Alicante lends itself to an all year round outdoor lifestyle. The city of Alicante is located in the south-eastern part of Spain in the region of Valencia. Alicante (city) is also capital of the Alicante province and is a historic Mediterranean port. This beautiful city is set amidst mountains to the west and the Mediterranean to the east. The diverse ethnic groups in the city give it a vibrant and multicultural atmosphere. Spanish (Castellano) and Valencian are the official languages but English and German are widely spoken.
Alicante Lifestyle
There are a number of championship standard golf courses in the region – in fact, there are fifteen 18-hole courses within a two-hour drive of Alicante city; Las Ramblas, Villamartin and La Finca golf courses are just three of the many on offer. For those that prefer the sand of the beach to the sand in the bunker, Alicante region is blessed with any number of beautiful beaches. Guardamar del Segura, La Zenia, Playa de los Locos and Cabo Roig are just four of the most stunning. The majority of beaches offer excellent facilities and most offer opportunities for water sports.
Major Towns & Cities
The beautiful, historic town of Aspe is located in the valley the of the river Vinalpo, some 25km from Alicante City. It is famous for producing a very special variety of grape, which is unique to the town. Cabo Roig is a popular beach resort located on the Orihuela Costa in Costa Blanca South. Situated between La Zenia to the north and Campoamor to the south, the town is a popular destination for tourists and second homeowners alike. Torrevieja is a bustling town 45km south of Alicante and is a popular tourist destination. From the city of Alicante in the south to the town of Denia farther up the Mediterranean coast is the region of Costa Blanca North. With much of the area under strict conservation control the area features some of the most beautiful coastline in Spain and is dotted with numerous traditional Spanish towns including Javea, Moraira and Benissa.
Transport in Alicante
The region is well served by El Altet airport, which is 12 kilometres south of Alicante city. There are regular flights to and from most UK city airports. The road network is good and train services are reliable giving access to all major Spanish and European cities.
Malaga
Malaga is a popular beach city on Spain's sunny Costa del Sol in the Andalucia region. There is a wide range of property for sale in Malaga including bargain apartments through to swanky multi-million-euro designer villas. Properties for sale include beachside apartments and penthouses, townhouses, golf course homes and stunning modern-style villas.
Living in Malaga
Malaga is a lively, bustling city by the beach with plenty of places to visit and things to do, so there's no wonder why real estate here is so popular. It's said to be one of the oldest cities in the world and is Spain's sixth largest city. It is also the birthplace of one of Spain's finest artists, Pablo Picasso, and has a fine museum dedicated to its famous son. Other famous faces from Malaga include the actor Antonio Banderas and the golfer Miguel Angel Jiminez. As befitting its important status, Malaga holds several important festivals during the year including an Andalucian Fair with flamenco dancing and a fairground, dramatic and sombre Holy Week processions, and the Three Kings parade. Malaga is a sporting paradise with plenty of good golf courses nearby, watersports such as surfing and sailing, and the Malaga football club which is in La Liga. Malaga is a lively cosmopolitan city where you can find restaurants serving cuisine from around the globe. Typical regional dishes feature fresh fish and shellfish, and the delicious gazpacho, which is a cold soup.
Malaga Lifestyle
There are many ways to explore Malaga and soak up the atmosphere. A stroll around the old town or by the harbour are great spots with a variety of restaurants and bars, from Michelin Star restaurants to cosy tapas bars. Tapas bars in the Andalucia region are among the best in Spain where you can enjoy a tasty snack with your wine or beer.
Cultural lovers can explore Malaga's rich past with a visit to the Moorish Alcazaba, Quecha Theatre, which dates back to 1BC, and the 19th century bullring. Malaga is a great place for shopping too. Open-air markets are a great place to mingle with the crowds and try out your Spanish. The Atarazanas central market has a spectacular display of fish, meat, fruit and veg. There are also several shopping malls with high-street names and designer stores.
Transport in Malaga
Malaga has fantastic transport links. It has an international airport which is just 8kms from the city centre with flights around Europe and other major Spanish destinations. There are local buses for getting around town and long-distance coaches to neighbouring Costa del Sol resorts such as Fuengirola and Torremolinos, as well as major cities such as Madrid and Valencia. The road network is very good too with the major A7 road running along the southern coast to link Malaga with resorts such as Marbella, Estepona and Almeria as well as roads heading inland to destinations like Granada, Cordoba and Sevilla.
Murcia
Murcia is a historic city in the south-east corner of Spain. It is a vibrant university city with a multicultural community. It is close to the beaches, golf courses and popular tourist destination of La Manga. Murcia real estate prices are good at the moment with many bargain homes for sale. This is an ideal area for buying an investment property as there are around 35,000 students at Murcia University as well as tourists and business people seeking rented accommodation. Properties for sale in Murcia include villas and apartments either in the historic centre or on the outskirts.
Living in Murcia
Murcia has a thriving tourist industry with visitors attracted by the temperate climate, culture, cuisine and sports facilities. The regional capital and university city on the River Segura is a lively, cosmopolitan centre with grand hotels, fancy restaurants, top shops and a colourful nightlife. It is a compact city and easy to get around. The 15th century Gothic cathedral dominates the main square where there are many other beautiful historic buildings, shops, cafes and restaurants.
Here you can enjoy the finest regional, national and international cuisine. Murcia cuisine is centred around its local produce such as peppers, tomatoes, fish, cheese and lamb. Rice plays a fundamental part in the Murcian diet as it is grown in the nearby Calasparra region and some consider it to be the finest in Spain. Murcia enjoys many fiestas but its Easter processions are among the most famous in Spain, when life-size, finely detailed sculptures by the 18th century artist, Murcia-born Francisco Salzillo are taken out of the museums and paraded around the city. The colourful Orchard procession takes place about a week later.
Transport in Murcia
Two international airports are close to Murcia with Alicante being 70kms away and San Javier just 45kms. Several long-distance trains and coaches link the city with Madrid and other major Spanish cities including Valencia and Barcelona. There is a local bus service and trams throughout the city centre and the suburbs. Road links are very good with main roads connecting Murcia to Cartagena to the south and Alicante to the north.
Murcia Lifestyle
Murcia is a fine destination for sports lovers with numerous golf courses nearby as well as being home to Real Murcia football team, whose past coaches include the former Liverpool star John Toshack. Sports lovers have an endless choice of activities including hiking, horse-riding, cycling, paragliding, diving, canoeing and caving, which are within easy reach of Murcia. There are also many splendid golf courses and tennis courts close by. Murcia is also a great destination for shopping as Spain's top department store El Corte Ingles is in the centre, and there's also a weekly market as well as shopping centres nearby such as Thader and Neuvo Condomina. There is also a large Ikea and Primark close to Murcia.
Beaches are about an hour's drive from the city, including the fabulous beaches at Torrevieja, Mar Menor and La Manga.
Villamartin
Villamartin is a very popular tourist resort on Spain's Costa Blanca. It is an ideal region for investing in real estate as it is close to two international airports, beaches, salt lakes and has two championship golf courses on its doorsteps.  Villamartin has a big range of modern property developments with a choice of apartments, bungalows, villas, and townhouses for sale at fantastic prices. This is an ideal destination for people looking to move to the Alicante region of Spain or investors who want to rent properties to holidaymakers or local residents.
Living in Villamartin
Villamartin is a cosmopolitan Spanish region which enjoys more than 300 days of sunshine a year. Tourists enjoy the temperate climate throughout the year. The town is in a lovely spot in south Costa Blanca with many golf courses, great shopping, and restaurants selling international and regional cuisine including fresh fish, shellfish and hundreds of rice dishes including paella.
Nature lovers enjoy the La Mata and Torrevieja salt lakes, just to the east of Villamartin, which are home to a variety of wild birds including flamingos. It is also handy for the lovely beaches of Torrevieja, Playa Flamenca, and La Zenia. From Villamartin, you can also visit the historic cities of Alicante, Orihuela, Elche, and Murcia, all of which have many shops, museums, art galleries and fiestas to enjoy.
Transport in Villamartin
Villamartin is just 20 minutes from San Javier airport in Murcia and less than an hour from El Altet airport in Alicante. It has a good road network and is just off the main AP7 toll road linking Valencia with Cartagena.  Alicante train station links the city with all major Spanish cities and a new high-speed rail network has recently opened so Madrid is just two hours and 20 minutes by train.
Villamartin Lifestyle
Many golf lovers head to Villamartin as there are four 18-hole courses practically next door to one another – Villamartin, Las Ramblas de Orihuela, Campoamor, and Las Colinas de Campoamor. This really is golfing heaven as there are another four courses just a few minutes away by car. Each course is uniquely designed so you can choose the one that suits your game the best or tests your ability more. The temperate climate, even in winter, means golfers can practice their game throughout the year.
Nearby are the beaches at Torrevieja and along the Orihuela coast which are perfect for swimming and sunbathing as well as trying water sports such as sailing, windsurfing, and stand-up paddle.  People looking for retail therapy will not be disappointed either as there are several shopping centres nearby including Zenia Boulevard with 150 shops plus restaurants, bars and a casino.
Javea
The infrastructure in and around Jávea has been undergoing significant expansion and improvement since 2001. In an attempt to retain the town's character the local government has restricted the height and types of new buildings permitted. As a consequence, developers have created innovative and unique properties that more than adequately fit the town's historic character. Many new estates consisting of villas have been built in the wooded hills around the bay, whilst apartment complexes are being constructed along the coastal strip between the port and the Arenal.
Living in Javea
Jávea enjoys protection from the bitter winter winds of the north by the massif of Montgó. The Javea microclimate was identified as one of the healthiest in the world by the World Health Organisation. There are more recorded hours of sunshine per year in Jávea than in any other place in Spain.
Transport in Javea
Valencia and Alicante airports are just over an hour's drive away from Javea. There is a daily coach service to Madrid as well as regular and direct coach links to both Alicante and Valencia. The nearest rail station is at Gata de Gorgos, about 10 km inland, with a regular service to Alicante. There is a regular car ferry to Ibiza and the other Balearic Islands from Denia, a few kilometers up the coast from Jávea. Jávea has excellent road connections to regional capitals.
Javea Lifestyle
Javea is a bustling seaside town, with a popular market which takes place every Thursday. Through late Spring to early Autumn, the town features four nationally famous fiestas that celebrate the town's rich history. The festival of Jesús Natzaré which takes place in April or May and honours the perpetual mayor of the town is followed in June by the Fogueres de Sant Joan, a pagan festival, commemorating Midsummer and are widespread throughout the Valencian Community. In July, the Moros i Cristians parades take place in the port area and celebrate the defeat of the Moors by Christian forces in the 13th Century. The last festival of the year is the Mare de Déu de Loreto which takes place in September and features bull-running on the harbour walls and a firework display.
The area of Javea is suitable for outdoor pursuits including cycling, diving, fishing, horse-riding, mountain biking, sailing, and trekking..
The nightlife in Jávea is centered around the Arenal (main beach area). During the summer, several chiringuitos (beach bars) spring up along the seafront between the Arenal and the port area. There are also night-time activities in the old town region.
Denia
Denia is a popular holiday resort in the north Costa Blanca area of Spain. Property prices have dropped in recent years, so there are some amazing bargains on offer. Buyers have a wide choice of properties for sale from apartments, villas and rural homes, either along the 15 kilometers of sandy beaches, in the historic town centre or on the Montgo mountain with its far-reaching views.
Living in Denia 
Denia is a resort with a lively cosmopolitan feel. It is a particular favourite with the English, German, Dutch, and French who love the good climate with plenty of sunshine, the long sandy beaches, the bustling old town and its wide range of restaurants. The resort is particularly well-known for the famous Denia red prawn and its close proximity to the rice fields means that the paellas are particularly tasty. The fishing fleet goes out every weekday to bring an amazing variety of fish and shellfish into the port.
Denia enjoys a bustling nightlife from chill-out bars to beach bars and live music venues. Its marina is home to hundreds of swanky yachts as well as restaurants and bars. The coastal resort prides itself on its wide variety of fiestas from the fiery fallas in March where giant satirical statues stand tall in the streets before being burnt to the ground, and bull-running in July.
Transport in Denia
Denia is midway between Alicante and Valencia in eastern Spain with both cities having busy airports with direct flights to the major UK cities. It takes about an hour to drive from either airport to Denia along the toll road, the AP7. There is no direct train link but the coaches are frequent and well-priced. There is a train between Denia and Benidorm which is very cheap and meanders slowly along the coast and through the mountains. From Benidorm, there is a connecting train to Alicante.
Denia Lifestyle
The temperate climate throughout the year makes Denia an attractive choice for sports people. There are many water sports available such as sailing, snorkeling, diving, jet-skiing, kite-surfing kayaking, and stand-up paddle. Three top golf courses are nearby, including Oliva Nova which was designed and built by the late, great Seve Ballesteros. Professional cycling teams and enthusiastic amateurs head to Denia during the winter and spring for training as they can test themselves on the tough mountain tracks as well as on the picturesque coastal roads.
Residents and visitors to Denia can also enjoy wine-tasting excursions, spa treatments, holistic therapies and shopping, including the outdoor Monday market, as well as sunbathing on the glorious sandy beaches.
Valencia
If you are looking to escape the "Expat Havens" and immerse yourself into the Spanish way of life, Valencia offers it all, Sun, Golden Sandy beaches, warm Mediterranean sea, beautiful city centre and architecture, fiestas and tradition!
Buying property in Valencia can still be a little more expensive than the rest of Costa Blanca but there are some great offers to be had. Buying in the right location can also mean a good investment, Valencia offers something for everyone, but be aware, you will need to learn Spanish if you are thinking of living here.
Properties available range from old apartments in the beach áreas of El Cabanyal and Malvarrosa, perfect for investment and renovation projects, all year round living, holidays or rentals, the odd jewel can be found here too – Modern new builds or traditional stylish apartments throughout the city centre, El Carmen and surrounding districts.
Villas and individual country chalets on urbanizations in surrounding towns and villages, all within a 45/50 minute drive. Don´t expect to find urbanizations of "look-alike" White villas, style and individuality are what Valencia provides.  – Gandia, Betera, Olocau, Buñol, Pobla de Valbona, Cheste, Godelleta, La Eliana, Lliria, Villamarchante, Montserrat to name just a few.
Exploring Valencia 
Out and about in Valencia City centre, you will find culture seeping from every corner, with over 40 museums, historic towers, and buildings, theatres and markets. The old town, known as El Carmen is the nightlife área and offers a vibrant atmosphere day and night, with its maze of ancient narrow streets, interesting shops, and restaurants galore.
There is many open-air plazas for sitting out and enjoying the relaxed atmosphere of Spain's 3rd city. Valencia is a city offering stunning architecture, Mediterranean sea, Golden beaches, and an abundance of gardens and parks. Not forgetting the spectacular modern designs of the City of Arts and Sciences and River Turia gardens, one of Europe's largest leisure parks.
The Beach of Valencia has a 5km long palm tree lined promenade with a selection of excellent seafood restaurants and a Street market during the summer months. El Cabanyal, one of the oldest districts of Valencia brings charm and history to the beach area, Las Arenas and the Marina to the south show style and wealth, La Malvarrosa in the middle is the "locals" residential área and the Patacona to the north is the new up and coming zone.
The towns and villages surrounding Valencia offer traditional Spanish ways of life, a chance to blend in with the normal lifestyle, weekly markets, abundance of restaurants and bars, and all the amenities you will need. The villas and chalets generally being set just out of the town on urbanizations.
Seaside towns such as Gandia and Tavernes de la Valdigna offer vibrant tourist locations and beautiful beaches, with excellent communication from Valencia.
Location and Lifestyle
Valencia doesn´t have the hustle and bustle of other large cities, the laid back attitude that goes with a seaside town gives it a unique atmosphere, which appeals to all ages and walks of life. Valencians are proud of their traditions and fiestas, the largest of which being the Las Fallas festival of fire in March. The home of Paella and Fireworks always makes for explosive fiestas.
Valencia has a pleasant Mediterranean climate, with a nice balance between summer and Winter. Not too hot in the summer, with averages around 29-32ºc and in Winter not too cold, with January and February being classed as the "cold months" with averages around 5-8ºc. Valencia also claims to enjoy an average of 360 days sunshine, but still has enough rain to keep it Green and beautiful.
The local Government is working on boosting the economy through tourism and major events, with the Formula 1 Grand Prix being the latest added to the agenda back in 2010 and the Valencia Open 500 Tennis Championship held every October. But still, Valencia manages to keep its regional pride and character.
Transport and Communication
Nicely situated for easy access to Barcelona, Madrid and the Costa Blanca. Serviced by the A7 which runs from Barcelona to Alicante via Valencia, the A3 motorway to Madrid, and the new AVE fast track train means you can be in Madrid in 90 minutes!
Valencia's international airport has just tripled in size, bringing more and more flights daily, including EasyJet and Ryanair.
As for public transport within Valencia itself, it has one of the most extensive bus services, a tram and metro service, with regular local trains reaching to Gandia in the south, Castellon de la Plana in the North and Utiel in the West.
Granada
Granada is a very special place in southern Spain. People who buy in this region have historic cities, the world heritage site of the Alhambra palace which was built by the Moors when they ruled most of Spain, mountain ranges and stunning beaches on the Costa Tropical within easy reach.  This Spanish region is a tourism hotspot throughout the year with the beaches being the main attraction in summer while skiing in the Sierra Nevada is a popular winter pastime. It is possible to ski in the morning and swim in the sea in the afternoon, so you really do get the best of both worlds with Granada real estate. The city of Granada attracts millions of visitors throughout the year with an average of 6,600 heading for the Alhambra every day. Property for sale in Granada ranges from cave houses, country homes, historic  townhouses, villas and apartments to suit all price ranges.
Exploring Granada
Just south of the historic Moorish city of Granada, The Lecrin Valley is a beautiful green, orchard-covered area at the foot of the dramatic Sierra Nevada mountains and within half an hour of the beautiful Costa Tropical featuring the picturesque beach resort of La Herradura. Sitting between the mountains of the Sierra Nevada and the sun-kissed beaches of the Mediterranean is the delightful refuge of Las Alpujarras, while in the south of the region is the historic city of Alhama de Granada.
Granada Location & Lifestyle
Granada is in Andalucia in southern Spain, which is famous for its dramatic flamenco, guitar playing and tapas. The Andalucian people are rightly proud of their traditional cultures and customs with fiestas – and flamenco – being held throughout the year.
Granada city is a major draw for millions of tourists who visit the incredible Alhambra royal palace. The region also has some amazing mountain ranges including the Sierra Nevada, which is an important Spanish winter ski resort. The beaches are another major attraction, ranging from large resorts to pretty little bays.
Every month, there are dozens of fiestas in towns and villages throughout the Granada region. Easter is an interesting time to visit with hooded groups taking to the streets with crosses and large statues depicting various Holy Week scenes such as the Crucifixion and the Resurrection. The Easter festivities are followed by the famous May Crosses Fiesta which dates back to the 17thcentury and celebrates the arrival of May with an explosion of colour and noise in Granada city.
The squares, balconies and pavements are decorated with vibrant floral displays for this special day. Sixty days after Easter Monday, Granada celebrates its annual fair for the Feast of Corpus Christi, which dates back more than 500 years. Bullfighting, fairgrounds, fireworks and flamenco take pride of place during the festival. Last but not least, the biggest water fight in Europe is held in the famous spa town of Lanjaron in June to celebrate the Feast of St John the Baptist. The battle begins with a midnight fireworks extravaganza before revellers turn their hoses on to their fellow participants in the streets.
The cuisine ranges from meat and sausages in the rural areas to shellfish and fish freshly-caught from the sea in the coastal region. Typical dishes include tapas, which originated in Andalucia, and are small, tasty dishes such as cheese, sausages, meatballs and seafood. Serrano ham also comes from this area, which is cured and served in wafer-thin slices. Gazpacho is another speciality, which is a refreshing, cold tomato soup with pieces of cucumber, garlic and peppers.
The weather in inland Granada can be very hot in summer and can reach 40ºC while the winters can be cold and snowy. The coastal areas are milder with summers of 30ºC or more and much milder winters. The coast area enjoys 320 days of sunshine a year on average and is a fantastic place to visit at any time.
Transport in Granada
The Granada region of Andalucia in southern Spain has a very good road network with the main N340 road running the length of the coast, the main A44 linking the coast to Granada, and the A92 from Granada, around the Sierra Nevada and down to Almeria on the south east coast.
Granada has an international airport with daily flights from the UK plus national flights. Malaga airport is 133kms from Granada city and Almeria airport is 159kms away. Granada also has rail links with Spanish cities including Sevilla and Almeria. Buses go between Granada and other major cities such as Madrid.