Buying Property In United Arab Emirates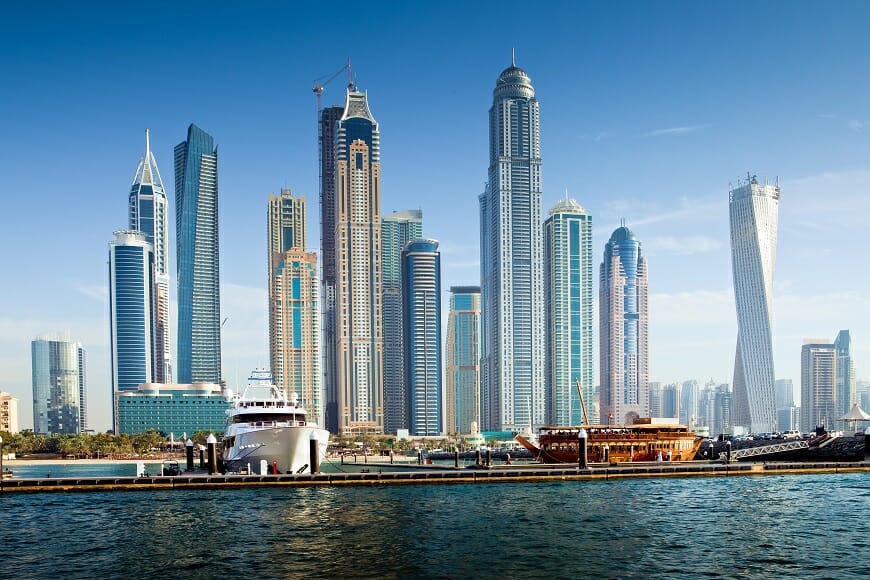 As a collection of seven separate emirates, there are some differences between emirates in the rules and procedures for buying property. For this guide we will focus on Dubai, where buyers from India, Pakistan and the UK make up the three largest overseas contingents.
Buying an existing (resale) property in Dubai follows a similar pattern to most other countries, with a small reservation deposit, then a 10-15% initial payment on signing the contract, followed by a final payment of the balance on completion. However in Dubai many more properties are bought off-plan with stage payments.
Foreigners can own freehold property in certain parts of Dubai (GCC nationals can buy freehold anywhere in Dubai), including popular areas such as The Palm, International City and Emaar Towers.
It is possible for a foreign national to get a mortgage in Dubai although there are restrictions from the UAE Central Bank which limit it to 75% loan to value (LTV) for a first property worth up to AED 5 million (US$ 1.36m) or 65% LTV for property above AED 5 million. For second and subsequent properties there is a limit of 60% LTV or 50% for off-plan. The maximum term will be 25 years, paid off by the age of 65 (70 if self-employed).
Off-plan property is usually bought straight from the developer, while resales are bought via an agent. You should always use an agent or developer registered by the Real Estate Regulatory Agency (RERA) or its equivalent in the other emirates.
Although hiring a lawyer is not a requirement in Dubai as the Land Department do the conveyancing, it is highly recommended.
The issues you need to cover include:
·         That as a foreigner you are permitted to own in that area.
·         That the developer has the title to the land without encumbrances.
·         The quality of workmanship for new builds. Ensure you understand the snagging process and builders' guarantees.
·         The exact timetable and amounts of stage payments.
·         What happens if the property is not completed.
When you have chosen a property or off-plan development and made a verbal agreement you will often be asked to pay a reservation fee to take it off the market. This will usually be non-refundable if you pull out but will be taken off the final purchase price.
Within a few days you will have to pay the deposit of 5 to 15% for existing property or as much as 30% for off-plan property. You will sign a sales agreement or Memorandum of Understanding (MOU). For off-plan property, which is inherently more risky than buying a finished property, check with the Real Estate Regulatory Agency (or its equivalent in the other emirates) that the developer is registered.
The buyer and seller will meet at the developer's office to apply for a No Objection Certificate (NOC). With the NOC issued, the parties are free to go to the Dubai Land Department. The buyer pays the balance via a bank cheque and a new title deed is issued to the buyer, who also receives the keys to the property or goes through a snagging process in the case of new property.
The entire process generally takes no more than 30 days from the signing of the MOU.
If the buyer does not wish to be present in Dubai they may sign Power of Attorney to their representative at a Notary Public in the UAE or in their own country. It will be legalised by their UAE embassy and attested in Dubai.
The main cost is the Land Department's transfer fee which is 4% of the purchase price and should be split between buyer and seller. Buyers will also have to pay the developer's annual service charge up front.
Other costs are for the NOC (AED 500-5,000), the estate agent's fee which is usually 2% of the purchase price and paid by the buyer, mortgage registration fees if applicable at 0.25% of the loan amount.
Laws of succession are not as obvious as in many countries so it is best to make an up-to-date will when you are in Dubai for your Dubai property. If not, your intended heirs may have to pursue a case through a Sharia court.
By Christopher Nye