Bouygues and Lend Lease sign deal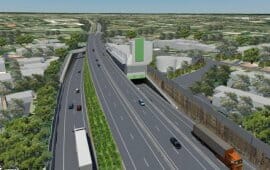 A joint venture team of Lend Lease and Bouygues has scooped a AU$2.6bn (£1.34bn) contract for the design and construction of the NorthConnex motorway in Sydney, Australia.
The team was announced as the preferred tenderer in March 2014
Work involves the construction of a 9km twin tunnel link from the southern end of the M1 Pacific motorway to the Hills M2 motorway. The contact also includes integration of the widening of the M2 motorway.
The scheme is being developed by Transurban, which approached the New South Wales government in 2012 with an unsolicited  proposal to design, build, operate and finance the link.
Source: The Construction Index
Link: http://tinyurl.com/monfjpm