Bouygues EPC Gibraltar win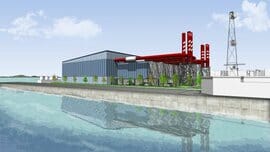 The contract covers the design, construction and equipment supply of the power station in Gibraltar.  This will generate 80MW of electricity and carry out heat recovery. The contract also includes operation and maintenance of the plant for a year.
Bouygues Energies & Services will provide a turnkey service under the engineering, procurement and construction (EPC) contract, taking responsibility for design, construction and environmental impact studies, as well as the supply and commissioning of six 14-cylinder generator turbine units weighing 300t each. The contract also includes civil engineering, procurement of electrical and mechanical components, incorporation of the heat recovery system for exhaust gases and commissioning of the entire power plant.
Three oil-fired power stations, all dating back more than thirty years, are responsible for electricity production in Gibraltar today. The turbines are difficult to maintain and no longer comply with European standards on pollution and noise.
The solution proposed by Bouygues Energies & Services for the new power station involves building the new installations in a confined area close to urbanised zones, and work will be carried out without disrupting the operation of the existing power stations.
Site works, which will involve 150 employees at peak periods, will begin in August this year, with handover scheduled for 2017. The design phase is currently getting under way.
Source:  The Construction Index
More Info: http://tinyurl.com/n53mqup