BAM wins Swiss Hospital contract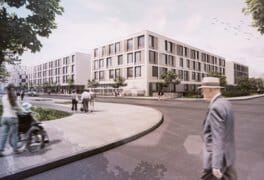 Swiss contractor Marti and BAM have bagged the contract to build a new university teaching hospital in Switzerland.
BAM's project share is approximately €70m (£52.4m), carried out by BAM Swiss and BAM Deutschland. The team's proposal beat eight other bids.
The Felix Platter-Spital in Basel will have 240 beds and will be the country's largest centre for geriatric medicine and rehabilitation. The hospital is being built on an 18,000m2 plot and will have four storeys. In addition to all outpatient and diagnostic facilities, it will provide space for education and research.
The new building also includes a day clinic, a mobility centre and a memory clinic, catering facilities and a centre for general practitioners.
Architects for the scheme are Wörner Traxler Judge from Frankfurt am Main and Holzer Kobler from Zurich.
Construction will start in mid-2015 and it is expected that the hospital will open its doors for patients on 1 July 2018.
Source: The Construction Index
More info:  http://tinyurl.com/mgwjwn6