Alstom wins contract for Delhi rail line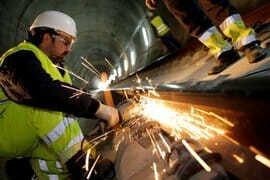 Delhi Metro Rail Corporation (DMRC) has awarded Alstom a €25m (£18.5m) contract to carry out 30km of track work for a new line.
The new line 7 of Delhi Metro – which is expected to open in December 2016 – is 59km long and includes 38 stations.
It is part of the Delhi Metro Phase III project to extend the network from six to eight lines. Opening of the two new lines is projected to bring an increase in the number of commuters from today's three million to about four million.
Alstom is in charge of the supply, installation, testing and commissioning of 30km of concrete and ballast tracks. The concrete track is for the elevated and underground sections from Lajpat Nagar to Shiv Vihar stations, while the ballast track is for the depot.
Source: The construction Index
Link: http://tinyurl.com/kkgau9d