Alstom wins 1bn Thai power contract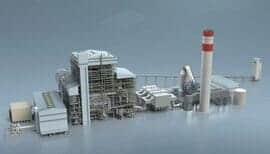 A team led by Alstom, in consortium with Maruberi Corp. is to build the first ultra-supercritical lignite-fired power plant in Asia under a contract worth almost ,1bn.
Alstom, in consortium with Marubeni Corporation, has signed an agreement with the Electricity Generating Authority of Thailand (EGAT) to supply and build the new unit at Mae Moh power plant. The total amount of the contract is €950m, with Alstom's share worth approximately €520m.
The contract will be carried out on an engineering, procurement and construction (EPC) basis. This new unit will replace existing units 4-7 and will make Mae Moh the first lignite-fired power plant in Asia operating with ultra-supercritical conditions. Upon its completion in 2018, the unit will produce 600MW of electricity.
Existing units in the Mae Moh Power Plant were all originally equipped with Alstom boilers but the new unit will operate at ultra-supercritical conditions which leads to a higher overall plant.
Andreas Lusch, senior vice president steam business at Alstom, said: "as we return to Mae Moh, this contract further confirms our customer's confidence in Alstom technology and execution capabilities to provide the most efficient and reliable power." He added: "We are proud to be able to work with EGAT to bring more sustainable and cleaner power to Thai customers and businesses. This success also reinforces our position as a leading power solutions provider in the industry."
Source: Construction Index
Link: http://tinyurl.com/mt9a4xc