Alstom awarded Egyptian rail deal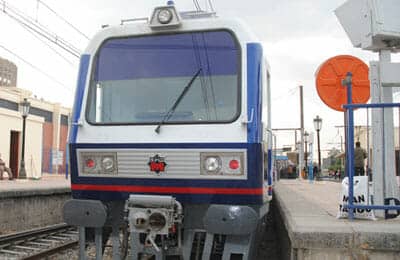 Alstom has said it's been awarded a contract worth €100 million from Egyptian National Railways for the Beni Suef-Asyut line to supply signalling equipment
The contract also includes maintenance of the 240-km-long Beni Suef-Asyut railway line for five years, said a statement from the French company.
Delivery will start in 2016 and the system is due to be operational by January 2019, it added.
As per the deal, Alstom will provide a smartlock solution – its new electronic interlocking system (EIS) – to replace the existing electromechanical one, as well as a trackside equipment, a power supply and a telecommunication system.
Alstom's solution will ensure safety for passengers while increasing the number of trains in circulation on the network by more than 80 per cent.
The project is financed by the World Bank and was launched by Egypt's Ministry of Transport as part of an initiative to modernise signalling systems all over the ENR network, enhance operation and increase the level of safety to match international standards.
A world leader in ERTMS (European Rail Traffic Management System) technology, Alstom has secured contracts in 23 countries covering 12,000 km of track, including six of the world's 11 high-speed lines which have been fitted with the technology and are in full commercial service.
Source:  Trade Arabia
More Info: http://tinyurl.com/mrrd229