Al Khodari signs deals worth $92.8m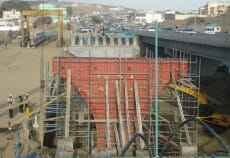 Dammam-based contractor Abdullah AM Al-Khodari & Sons Co has announced the signing of a pair of contracts worth $92.8m (SR348m).
The biggest of these is an $83.5m (SAR313m) contract with the Ministry of Health to build a 200-bed maternity and paediatrics hospital in Rass.
The contract was received on Thursday and work will start by the end of the quarter.
The company has also signed a $9.3m contract to build the second phase of a deanship support building at Taibah University for the Ministry of Education.
It wil take 15 months to complete from the date that the site is handed over to it.
Al Khodari & Sons earns around 95% of its revenues from government contracts.
In the year to December 31, 2014, the company achieved a 57% increase in net income to $30m as revenues climbed by 13.5% to $463.2m.
Source:  Construction News Online
Link:  http://tinyurl.com/ppal8k9