Al Futtaim-Carillion lands deals in Dubai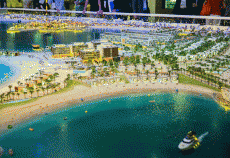 Dubai-based developer Meraas has awarded two major construction contracts to the Al Futtaim-Carillion joint venture.
The bigger of the two projects is a $350m contract to build a mixed-use development on the Dubai Creek waterfront. The project includes food, beverage and other retail buildings, underground and multi-storey car parks, three hotels, a mosque, museums, traditional workshops and a market.
Meraas also selected AFC to construct its $240m 'La Mer' at Jumeirah in Dubai. The project involves the construction of a mixture of top-end retail and public-facility buildings, together with substantial external landscaping to create over 1km of beach-themed frontage.
The development will spread across 9.5 million square feet of existing and reclaimed land and will be comprised of four distinct zones – the beach, a leisure and entertainment hub, North Island, and South Island.
On North Island and South Island, La Mer will include fully integrated residential neighborhoods that comprise a total of 688 apartments and villas as well as a 160-key hotel to meet the expected influx of tourists. The project will also launch a range of retail and F&B concepts, some beach activities.
According to Meraas website, La Mer's "core value of the project is its leisure and entertainment hub that adds a whole new dimension through its offerings that focus on water play, beach sports in addition to skate boarding, outside gymnasia and youth activities. As part of its leisure and entertainment component, the project will additionally include two marinas for yachts, and a park.
Carillion Chief Executive, Richard Howson, said:  "We are delighted to have been selected as the preferred bidder for these two major contracts. This reflects our reputation for high-quality and reliability and we look forward to working with Meraas to deliver these prestigious projects*
Source: Construction News online
Link: http://tinyurl.com/qbqcdux