A Beginner's Guide To Learning Spanish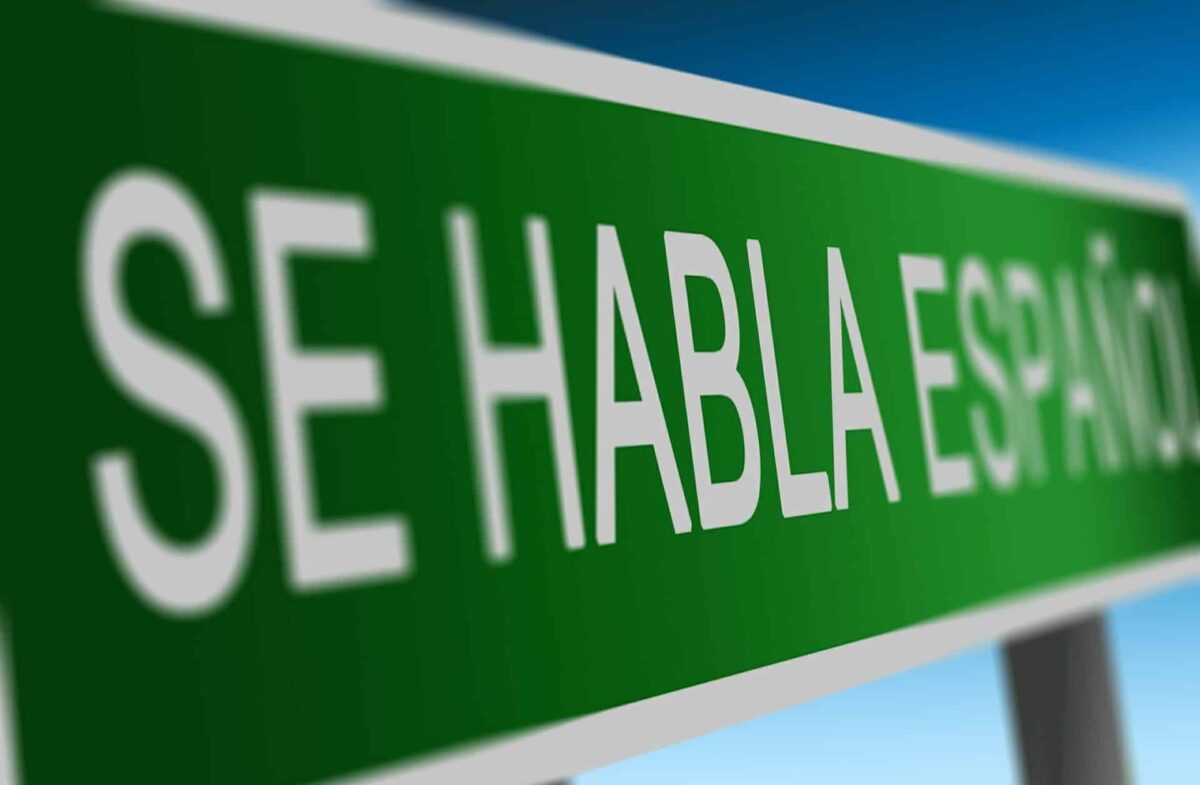 Learning Spanish cannot be accomplished in a matter of hours or days, so let's focus on becoming conversational first. If you want to learn Spanish but don't know where to start, we strongly suggest you keep on reading this article.
Originally published by Gymglish
Spanish is the second most spoken language in the world after Chinese; today, there are more than 577 million native Spanish speakers in over 20 countries, a variety which offers learners a wide array of accents, vocabulary and dialects to explore.
Reasons to learn Spanish
It goes without saying that learning Spanish is the best idea you've ever had, and quite possibly that you ever will have. After all, Spanish is the language of tapas, sangria and sun and other reductive clichés, so not learning this language is insulting and quite frankly offensive.
The reasons to learn Spanish are infinite – all you need to do is find what motivates you to stick to it. Whether it's for career purposes, making your resume more attractive, speaking with your Spanish-speaking friends, going on an exchange program, or just showing off in front of a full-length mirror in front of a Spanish-speaking pet or loved one, there are plenty of reasons to learn the language of Julio Iglesias.
Many say Spanish is not a difficult language to learn. Spanish may be considered an easier language to learn because it shares many characteristics with English, including having lots of vocabulary as well as it being spoken in California. However, there are some pitfalls that might make your learning journey more difficult than expected. Did you know that Spanish is the second-fastest language, with a native speaker saying nearly 7.82 syllables per second? No one knew that. If you did, you'd be writing earth-shattering SEO content for robots.
While learning Spanish is no walk in the parque, it is not an unattainable dream, like your idea for an app that counts the ducks you see at your local pond. Learning Spanish is even easier if you live in the UK or in the US. You can jump on the next flight to Madrid or Mexico City and in a couple of hours, you'll be surrounded by native Spanish speakers. To be fair, it sounds like it would be even more practical to live in those places. That would save you some airfare at the very least. Furthermore, there are plenty of learning resources available online, regardless of your level of Spanish.
How to determine your level of Spanish
Before you start getting too excited, it's advisable to assess your level of Spanish.
For example, using Gymglish's Spanish course Hotel Borbollón, you can test your Spanish level for free, and try out 7 days of lessons for free.
Once you have completed your free trial, you will receive a personalized level assessment that outlines your strengths and weaknesses. No fuss, no muss.
Test Hotel Borbollón for free today, with no strings attached.
Time and motivation
Learning, like loving, takes time. Lots of time. Even though you can learn a few basic expressions in a couple of hours (una cerveza por favor), it will take more time to get a feel of the culture and the subtleties of the language. You'll still need a fair dose of practice to make your Spanish perfecto. I'm being told that means "perfect".
Learning Spanish is not an unattainable dream, like your fantasy house on Mars with a robotic dog. The going may get rough, and you may struggle to make progress at the beginning, and then you may hit a plateau, and then you may find yourself frustrated with your lack of progress and on the brink of tears, but honestly that's a small price to pay for Spanish fluency. If you think about it, all you really need is a ton of motivation, patience, a clear set of goals, a bit of free time, perhaps some money set aside, and large quantities of fresh fruit and energy drinks.
Any excuse is good to improve your Spanish, all you need to do is find the methods and resources that best fit your needs and goals. Trust us on this: being able to walk into a Latin American restaurant, order a meal, and speak with the waiter/waitress, all based on self-learning, is an amazing feeling.
Resources and methods to learn Spanish while still having fun
Learning Spanish doesn't have to be about reading grammar books and looking up words in a dictionary. Although that's the most fun part of learning anything, you can also learn the language in a different way. Without even noticing you'll improve by the hour. Luckily, there are many free or paid resources online to help you learn Spanish at your own pace, and some cost only your soul. And what is that worth anyway? 5, 6 pesetas at best, with the current exchange rate.
Watching movies in Spanish
Ever since the arrival of streaming media platforms like Netflix and Amazon Prime, it seems that people are binge-watching movies day in day out: comedies, dramas, thrillers, adventure movies… there's something in it for everybody and for all levels!
Whether you're a beginning learner of the language or a more advanced student, you'll be glad to know that watching Spanish films in their original language (Spanish) is an effective and fast way to learn a language, specifically, learning Spanish. Given that you can access Spanish films anywhere, anytime and on any device, this is a no-brainer. Not only will watching Spanish movies improve your oral comprehension (and written if you add subtitles), but you'll also add new vocabulary words to your lexicon and improve your pronunciation. You'll also broaden your knowledge of Hispanic culture as a whole which is important.
We recommend watching Spanish-language movies first with subtitles (in your own language), then move to Spanish subtitles, then eventually switching them off altogether. It may take you a while to find the subtitles option on your remote, but the struggle is worthwhile. The movies you should watch will depend on your level and motivation, because the pronunciation of the actors, the story and the vocabulary can be more or less difficult depending on your level of Spanish. Spanish.
Want to take it further? Why not check out our article on five classic movies to learn Spanish?
Watching TV series (with subtitles)
Just like movies, TV series are visual media designed to entertain, and therefore provide additional learning material on your learning journey. Beware though, as some are easier to understand than others – which is why you need to pick out TV shows which match your level of Spanish. Say you've had a long day reading an absorbing 6-page treatise on the merits of learning Spanish – you need a break. Tune in to La Casa De Papel or Las Chicas Del Cable with subtitles, and you'll passively hear authentic Spanish accents and intonations as well as real words and sentences. There is also a plot and interesting characters which also might prove compelling. If you're brave enough, you could even do without the subtitles and try to understand the context by yourself. That way, you'll have no choice but to train your ear and get used to authentic Spanish accents. Learning something despite yourself is truly the best way to learn a language.
Our article on 5 Spanish TV shows should provide more insight.
Creating a Spanish playlist
The Spanish-language music scene offers a huge array of styles, accents and genres. So whether you're into rock, pop or metal, nu-metal, folk, afrobeat, hip-hop, reggaeton, punk, post-punk, power-punk, jazz, classical, jazz,  polka, klezmer, afro-klezmer, Indie, Mindy, or nu-polka, you're bound to find at least one song you love in the language of Shakira. Thanks to the rise of online platforms like YouTube and Spotify, music is more accessible and affordable than ever before, and the only victims are the artists themselves, and your private data. Again, a tiny price to pay for unlimited tunes.
Not only will listening to Spanish music train your ear, but it will also help you decipher authentic Latin accents (Mexican, Colombian, Peruvian…) and teach you popular colloquial expressions and subtle turns of phrase. Not to mention, you will improve your speaking skills if karaoke is your thing – Wait, people speak during karaoke? I'm honestly still shocked that no one asked me to proof/edit this. From a cultural viewpoint, music is a great entry into Hispanic and Latin culture.
It's important to note that music, no matter how catchy, sensual and boppy it is, should only be sure as complementary learning material – it doesn't qualify as a unique method to learn the language. You have been warned. I don't want to see any of you listening to your music without also studying grammar at the same time.
Speaking of which, why not check out our article on 6 Spanish tunes to improve your Spanish!
Reading books in Spanish
Reading, for those of us who still know how, can give your Spanish skills a real shot in the arm. Reading in Spanish will improve them even more. Give your reading comprehension skills a serious upgrade – and your listening comprehension skills too if you were thinking of listening to an audiobook. Whether your focus is more on grammar, vocabulary or just seeing Spanish written on the page, you're bound to find a book out there that will tickle your fancy.
The benefits of learning with books are many. If you're at the beginning of your learning process, you might be tempted to go for classics such as Don Quijote or Cien años de soledad – ¡cuidado! Going down that road may be the worst decision you've ever made.  You may be discouraged by the length and the complexity of the Spanish used in these classics.
Spanish literature is a real treasure trove – the trick is to find the book that best matches your understanding of Spanish. As a matter of fact, nobody is asking you to go through a 400-page novel; you could purchase a cookbook, a science magazine or even a biography of your favourite movie star – Dwayne "La Roca" Johnson. Now that's what we call fun. You could also go all the way and order yourself a Kindle – that way, you'll have access to the largest library on earth.
Read more on five books to improve on your Spanish in record time here!
Listening to podcasts in Spanish
Whether on your way to work, heading for the airport or simply chilling at home, we've got something that will come in handy: podcasts. The concept started to take hold 15 years ago and today, these digital audio files have become a very popular and convenient means of communication, and more recently, as a way to learn a foreign language. Podcasts are a great way to add a little Spanish listening practice into your day-to-day life.
Podcasts are mostly recorded by native speakers, which means you will hear and grasp authentic accents right from the start. We would recommend you pick short podcasts to start with – you can move on to more difficult ones later in your learning journey. From EspagnolPod to Audiria, Radialistas to Coffee Break Spanish, no matter what level of Spanish learner you are, there is a podcast out there that can help you. Obviously this paragraph was sponsored by Big Podcast, the podcast lobby that's tearing apart our nation with interesting spoken word content.
Speaking of which, have a look at our article on 5 free Spanish podcasts to improve in Spanish!
Watching documentary films in Spanish
Want to go even further in your learning process and boost your general knowledge? Probably not, but if you do, the wonderful world of documentary movies is just one click of the remote control away. Documentaries offer a great diversity of topics broached as well as a huge array of landscapes: from Chili to Bolivia, Paraguay to Mexico, you'll uncover a whole new world of dialects and accents to improve your speaking skills. Documentaries are great as they'll help you listen to realistic conversations and over time, you'll start speaking in a more natural way and you'll be much better equipped to follow conversations in the real world. Whilst some can be a great point of entry to the Spanish language, others will prove to be more difficult to fathom, so subtitles are a must.
If you do decide to go on a documentary film marathon, one thing's for sure: exposing yourself to the sounds of a language is an excellent way to train your ear to new accents and intonations and will tremendously improve your speaking skills.
Learning Spanish through the news
On your trip to Bolivia or Ecuador, you might be curious as to what actually goes on in those countries – because why would you consider that before going there? More often than not, beginning learners of Spanish are unable to decipher El País's headline – which is a real shame. The international press is often perceived as a grueling challenge for any foreign language learner – from idioms to complex vocabulary and political subjects, it's no wonder students are put off. But we'll have you know that the written (and online press) is an ideal way to brush up on your Spanish. Nowadays, there are a gazillion of resources out there just waiting to be checked out: general press, entertainment websites, specialized magazines… options are endless (and that can be quite scary).
The key to reaching your goal is to read on a daily basis; even if it means swapping your late-night TV series with a 20-minute read on the ABC website, you'll passively absorb new vocabulary words and you'll end up memorizing what you've read (as part of the microlearning learning process). If some parts prove to be more difficult than expected, use the overall context to try and grasp as much meaning as you possibly can. Your best pal ( i.e the dictionary), is also there to help you in your darkest hours.
Living in a Spanish-speaking country
Going on an immersion program in a Spanish-speaking country
What better way to learn about the Spanish language and way of life than to travel across the world as part of an immersion program? I mean, sure, you could be born to Spanish speaking parents in America, and face little societal resistance under the Trump administration, but, some of us are not that lucky. Immersion programs have proven to be an ideal way to learn a language because you get to attend language courses – thus improving your overall language level – all while making the most of the country and the cultural activities it has to offer. If you live in the UK, you're lucky to be just a few hours away from Spain and if you are from the US, you're literally on the same continent as Mexico, Ecuador, Uruguay and the crown jewel of Latin America, Paraguay.
Immersing yourself in a Spanish-speaking country for a long period of time is one of the most effective and fun ways of reaching fluency in record time and without much effort required. Even better: if you decide to step out of your comfort zone and hang out with native Spanish speakers, it will help speed up the process, as your new environment will be unfamiliar but really exciting. You'll be compelled to communicate with your friends and neighbours and you'll soon feel confident enough to have a full conversation.
Going on a university exchange program
If you're a university student or planning on enrolling, chances are you can spend a few months abroad and study in a foreign university. Most universities worldwide are already part of an exchange network. So why not make the most of it and travel to Colombia or Argentina as part of your studies? All you need to do is find the right destination for you. Once you've unpacked your bags, you'll soon mix in with the locals and your Spanish will get better by the hour. You could also take the opportunity to start a part-time job and learn the Spanish negocios to help you pay for rent or food. No matter the country you choose to live in, being fully immersed in the culture will enable you to practice what you have learned.
Speak Spanish with the locals
The most common mistake you can make studying abroad is to limit your social circles to people from your home country. While it can be difficult to break into unknown social circles, you'll soon realize that locals are more than willing to share their culture and their experiences with you. All the more so if you decide to share your accommodation with a Spanish-speaking person! So, essentially we're telling you to move in with a Spanish speaker – doesn't seem intrusive at all.
Uninterrupted exposure to a language is the most effective way to learn and to speak. Even though it might sound scary at first, we'll have you know that speaking with the locals (and daring to do so) will be beneficial on your trip to fluency. You'll inevitably have to face the many linguistic challenges of Spanish and find yourself lost for words more often than not; it's a natural feeling, you'll get past it. By any means, you'll have to speak at some point if you want to eat, sleep or take public transport, so confidence is key. Also, if you have good genes, good looks and are charming, things will probably work out for you too.
To get into the swing of things, we recommend you attend local cultural events or join foreign international student organizations, where people are looking to mix with the locals. If you choose to live in a big city, you could also join cultural exchange communities.
Hotel Borbollón
Hotel Borbollón delivers short, personalized and fun Spanish lessons.
Our goal: your motivation, participation and progress.
How does it work?
Each day you'll receive a lesson adapted to your needs, capabilities and goals.
Once it's completed, you'll immediately receive personalized corrections and explanations.
Your lessons are customized based on your strengths and weaknesses
You'll get a certificate of completion when you finish the course.