$1.5bn Mirfa Power & Water Project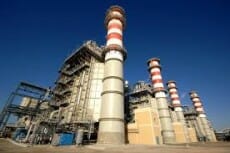 GDF Suez is to break ground on its $1.5bn Mirfa gas-fired power and water project in February 2015.
The project, located 120km west of Abu Dhabi, will generate 1,600MW of electricity, with a seawater desalination capacity of 52.5mn gallons per day. The new plant will replace an existing 200MW plant that caters to local demand in Mirfa.
According to Marie-Ange Debon, the deputy chief executive and head of international activities at the utility unit Suez Environnement, the plant could be finished in 2017, as it "usually takes two years" from the start of construction.
Suez said in October that the desalination part of the project, which includes the design and construction of the plant, plus a seven-year operating contract for its Degremont unit, is worth AED677mn ($184mn).
The Mirfa desalination plant will use reverse osmosis, which removes salt and algae from seawater by using membranes and is cheaper than the other two main types of desalination used in the region; multi-stage flash and multi-effect distillation.
GDF Suez, one of the largest desalination plant operators in the world and the largest shareholder in Suez Environnement, signed a 25-year power and water purchase agreement with Adwea in July and reached financial close in October. Adwea holds an 80% stake in the scheme, with the remainder held by the French company.
Source: Construction Week Online
More Info:  http://tinyurl.com/p9ocjol